(March 22, 2022) Arpan Dey was 15-years-old when a friend mentioned the Junior Academy of Sciences, a part of the prestigious New York Academy of Sciences, telling him to apply. "I never imagined I would get in, but I did send an application. I was selected," the now 17-year-old teen physicist says, in an interview with Global Indian. Only a month earlier, in July 2020, Arpan had founded his own blog, the Journal of Young Physicists, where he presently serves as the senior physics editor. In 2021, the West Bengal-based lad also published his debut book, Our Physics So Far, an attempt to examine consciousness through metaphysics and quantum mechanics, all for laypeople.
The science gene activated
Raised on a diet of popular science books, combined with a flair for writing that had already manifested in poetry and short stories, it seemed only natural that Arpan Dey should venture into science communication. Brian Greene (The Elegant Universe), Stephen Hawking, Michio Kaku and Steven Weinberg provided a literary diet the teenage physicist just couldn't resist. These works make up a small part of an impressive reading list.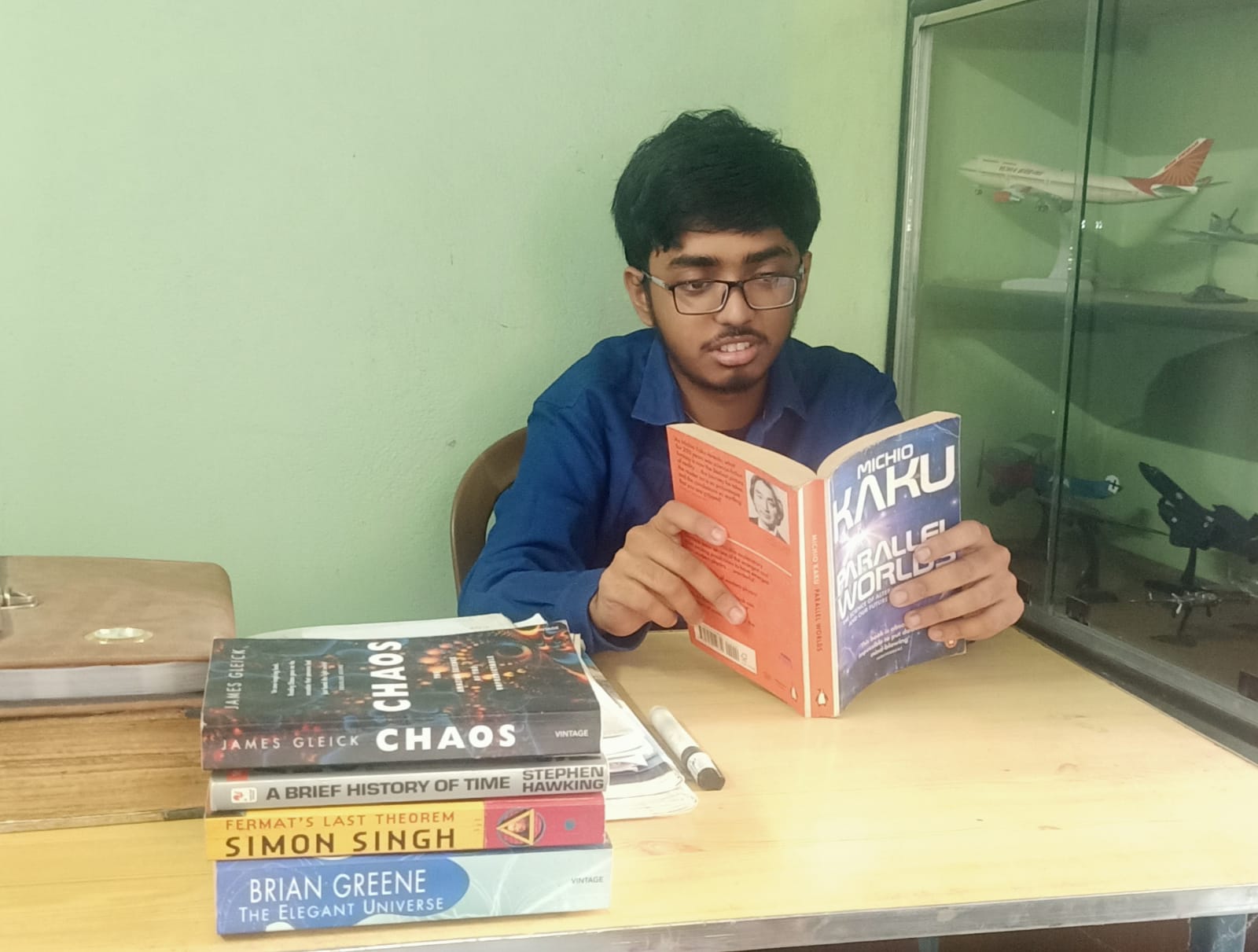 The pandemic was a busy time for the teen physicist. Aside from working on building scientific communities for young students, Arpan also began writing his own book. The idea of being a science communicator and bringing the many wonders of physics to laymen seemed the next logical step, for he was already wading through complex metaphysical research, smitten with great thinkers like the physicist and mathematician Roger Penrose (Shadows of the Mind) and Erwin Schrodinger (What Is Life), often hailed as the father of quantum mechanics.
"I thought there should be a place for young students to publish articles on physics," says Arpan, about how he began his physics blog, Journal of Young Physicists, back in July 2020. He put the word out, and soon enough, had a group of people on board. The 16-member team is made up of a diverse set of students from around the world, all bound by the universe that is theoretical physics.
Quantum physics explained
Even his idea for a book began organically. "I had a collection of notes on quantum physics and I thought, 'Why can't I write a book on this, and bring physics to the layman?'" The research alone, he says, took nearly two years to complete. What began as a bunch of notes on quantum physics became Our Physics So far (2021). In order to stand out from the others on the same subject, Arpan decided to stick with the idea of consciousness and metaphysics. "The writing itself took about three or four months after that," recalls the teen physicist.
During his research on quantum physics, he came across the Young Scientists Journal, a peer-reviewed publication. "After my piece was accepted, I realised that it was being run by young students. We have professors guiding us but the editors are mostly students," adds the 12th grader. He soon took over as editor, and it has been two years since. Arpan was also a curriculum developer for project reSTEM, part of the Young Scientists Journal, which aims to develop research hubs in schools around the world. "My job is handling content while colleagues handle outreach," says the teenage theoretical physicist.
Prodigious beginnings
Arpan is hardly your garden variety science prodigy. "I wasn't even so interested in maths and physics at first," he confesses, smiling. Instead, he would wonder about the meaning of consciousness and from where it emerged. "These questions came naturally to me. Just as others might wonder why the sky is blue, I think about the meaning of life and death, of why we are conscious beings, and what that means," explains the teen physicist. His parents, Arpita, a homemaker and Arun Kumar Dey, a teacher of economics, and his faculty at Delhi Public School in Burdwan, West Bengal, encouraged him. His father Arun also runs his own institution and was only too happy to bring his son books to read.
The first book to trigger his interest in the universe wasn't on physics. Instead, it began with a copy of David Eagleman's The Brain: The Story of You. "My interest in the idea of consciousness came because of my fascination with the human brain. I read Eagleman and that led me to ask if physics can answer the question of consciousness," says the teenage theoretical physicist. Similar questions, he found were being raised in quantum physics and quantum mechanics. "I decided I wanted to study consciousness through a physics perspective," he says. Thus began his tryst with Penrose, Hawking and Schrodinger, setting him firmly on the path to becoming a theoretical physicist himself.
Begetting knowledge
In the early days, he was working to build a network of scientists with whom he corresponded. "I have interviewed Edward Witten," he says, of the American mathematical and theoretical physicist who is the winner of the Fields Medal, the Dirac Medal, Albert Einstein Medal and a MacArthur Fellowship. The Young Scientists Journal published the interview in August 2020. "I would email professors and physicists with my ideas," Arpan explains. "I would find them online, and reach out, some responded. Two years ago, when I came up with a quantum physics idea that used a modified Schrodinger equation. I needed to know the implications of the model." One of his first mentors, the teenage theoretical physicist says, was Saumen Datta, of the Tata Institute of Fundamental Research.
An avid reader, Arpan loves fiction, enjoys Sherlock Holmes, Harry Potter and Feluda. His creative leaning is towards short stories (sci-fi and detective), and poems. Musically inclined, Dey composes music, writes songs and collaborates with vocalists. His songs are on his Youtube page, Arpan Amplified.