(November 22, 2022) When as a nine-year-old, Vinusha MK, was seeking an internship in baking and approached hotels and bakeries, she was turned down by all, owing to her age. It was Nina Reddy, joint managing director of Savera Hotel, the oldest four-star hotel in Chennai who recognised the passion and talent in the kid and agreed to her request.  
Now at 12, Chennai girl, Vinusha has been an entrepreneur for the last three years, running her business venture, Four Seasons Pastry profitably, selling 5000+ cupcakes, and other confectionery until now.
 It was in 2019 that she established her business, and since then the young entrepreneur has not looked back. Such is the expertise that she has developed in both baking and entrepreneurship that the class seven student gets invited to address college students who are much older than her. "I have recently been to Vellore Institute of Technology and PSG College of Arts and Science, Coimbatore to address food technology and retail management students," she tells Global Indian.  
The journey of baking
Talking about how it all began, Vinusha remarks, "A few years ago I had developed a keen interest in watching videos on baking and one day on my mother's birthday tried making a cake in a pressure cooker. Surprisingly, it turned out well." This successful experiment in the kitchen built great confidence in her to do more such experiments. "I got so obsessed with it that I started constantly thinking and talking about baking. That's when my parents bought me an oven and enrolled me in a baking class," she says.  
The youngest learner in the batch of her baking class learned the craft amidst much older batch mates, either newly married women or young professionals. However, after the short course ended, Vinusha's urge to learn more surfaced. She approached multiple hotels and bakeries for an internship in baking but got turned down by all. "They thought I was too small for it."
Luck prevailed
During one of the festive carnivals where the little baker had set up a stall to sell her goods, she got an opportunity to meet Savera Hotel's, Nina Reddy. This proved to be a turning point in her entrepreneurial journey. So impressed was Nina with Vinusha's efforts that she readily agreed to the little girl's request for an internship in the kitchen of her hotel.  
"It was a great opportunity for me," The kitchen of the magnificent hotel opened up horizons for Vinusha. "The majority of knowledge that I have acquired about baking is thankfully because of the opportunity to learn in Savera's Kitchen," tells she.
Stepping into the entrepreneur's shoes  
Vinusha wanted to take her passion for baking even further. "I was always fascinated by the word 'entrepreneur' and wanted to know all about it so that I can be one myself." Her chemical engineer father and homemaker mother proved supportive once again.
"My parents took me to an entrepreneurs' workshop where I met lots of entrepreneurs Their stories and ideas were so inspiring that I wanted to plunge into entrepreneurship instantly," says the student of Ology Tech School.  
Shortly after, the then-nine-year-old Vinusha launched Four Seasons Pastry in 2019. Since then, she has been steadily catering to orders of customized cakes, cupcakes, brownies, blondies, and chocolates. Her clients place the order either through her website or social media handles, and the products are delivered to their homes.
Though baking is solely handled by Vinusha, it's only when she is hard-pressed for the time that her mother chips in to help.  "Diwali and Christmas are the period of maximum business for us. Other than selling confectionaries, I hold workshops for those who want to learn how to bake," she says.
Diversifying the business  
The young entrepreneur also sells baking kits. "My 'Do it Yourself Baking Kits' are for youngsters in the age group of seven to 14 who want to bake independently.' It contains all the ingredients in the right measurement so that kids can make cupcakes, blondies, and cookies without compromising on the taste.
The kit contains recipes and useful information about the science of baking along with the ingredients.
While Vinusha's baking kits can be delivered across India, her chocolates are available within Tamil Nādu, and cakes, pastries, and cupcakes orders are catered across Chennai. Her mother who ran a play school earlier has shut it down to manage Vinusha's entrepreneurial goals and busy schedule, accompanying her to all the venues to which she is invited as a trainer or guest speaker.  
"Social media helped us a lot in connecting to people. All the clientele I have got is purely organic, there have been no investments in marketing so far," she informs.  
Powerful inspirations and big dreams
The budding entrepreneur talks about a whole list of people who inspire her. From CK Ranganathan the Founder Chairman of CavinKare, Zoho founder, Sridhar Vembu, and Suresh Sambandam, founder of Kissflow to Thyrocare founder Arokiaswamy Velumani, Vinusha ardently follows their leadership mantras. 'Despite being super successful they are mostly down-to-earth people and this is what I like about them," she says.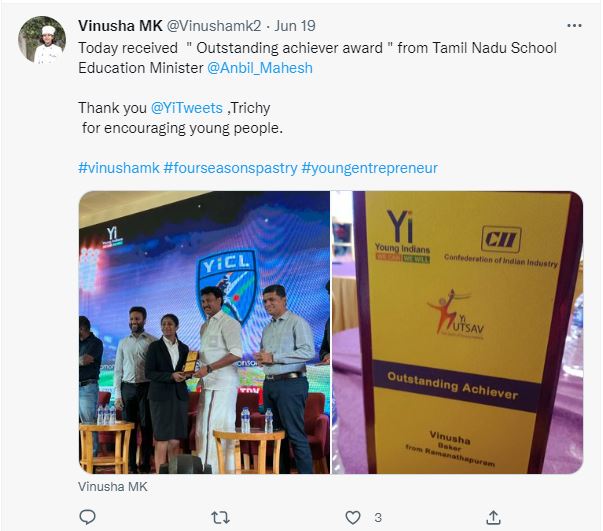 The young entrepreneur has got immense support from Geetanjali Sasikumar, director of Ology Tech School, who has even offered her the opportunity of scholarship to study in the school.
'I want to make my brand bigger in the future," tells the multi-tasker who manages her studies and her business venture by meticulously dedicating time to both. When it comes to her personal favorites, it's all about chocolate. "I love my brownies, chocolate cupcakes, and Choco-lava cake the most," she says.