(January 19, 2023) "It's a proud moment when you hold India's flag and represent your country on a global platform," says Praveen Kumar Giri, the B Tech student who bagged the silver in the water technology category at the WorldSkills Competition 2022.  
Praveen first learned about the competition when his college senior, Aswath Narayan, came back to India from Kazan, Russia winning a gold in water technology in 2019. 
"I had just taken admission in my engineering college then. Some of my hostel mates pulled me to the Bhubaneshwar airport where they were headed to welcome Aswath." That was the first time I learned that there is something called 'WorldSkills Competition,' Praveen tells Global Indian in an interview. 
The global competition, which was held between September and November 2022 is considered the gold standard of vocational skills.  
Founded in 1950, the WorldSkills Competition provides youngsters from across the globe a chance to compete, experience, and excel in their chosen endeavour. This was the 46th edition of the competition, which is held every alternate year in a new country.  
Originally scheduled to be held in Shanghai, then postponed by the pandemic, WorldSkills 2022 was called a 'special edition', because it was held across 15 countries instead of a single venue. India was represented across 50 skill categories, with participants bringing home two silvers, three bronzes and 13 medallions.   
Inspiration to bring home a medal 
"When the college authorities and officials from the Odisha Government were welcoming Aswath at the airport, I was standing at the back watching," he smiles. More than anything, he was pleasantly surprised by the fact that a person can hold the national flag with elan for excelling in a field other than sports. Ever since, he dreamed of bringing home a medal and making the college proud. And in 2022, Praveen managed to do just that.  
Congratulate #Odisha's Praveen Kumar Giri on winning #Silver for India in Water Technology at @WorldSkills 2022, Stuttgart in Germany. May you continue to excel in your life and make Odisha and the entire nation proud. Wish you all the best for future. https://t.co/p7ZJYy6rx7

— Naveen Patnaik (@Naveen_Odisha) October 9, 2022
Aspiration to do something significant
Praveen had always aspired to do something special. When he learned about the WorldSkills Competition he knew this was it. Motivated by Aswath's grand felicitation in college, he reached out to his professor, Rajat Kumar Samantaray. Professor Rajat happens to be Skill India's expert in water technology, mentoring youngsters who are interested in the category for district, state, national and international rounds.  
"People are facing severe problems due to water pollution and we must do something to combat the challenge," Praveen says. Winning silver has provided him enough confidence to work in the direction.  
He had travelled to Stuttgart, Germany, for the competition, going up against people from six countries – South Africa, Korea, Singapore, Vietnam, Japan and Germany. 
The National Skill Development Corporation (NSDC), under the ministry of skill development and entrepreneurship, Government of India, has been leading the nation's participation on the WorldSkills Platform. "The competition begins from district level, to state and national and once we are able to prove mettle in all, participants are sent to represent India on the global platform," says Praveen, the Bihar boy who represented Odisha, where he is a student, in the nationals.  
His ten days in Germany, Praveen's first trip abroad, incidentally, made for an experience he will always carry with him. Apart from the excitement of the opening ceremony, there were familiarisation exercises, four days of competitions, a closing ceremony and even an excursion for participants. "I got an opportunity to develop friendships with people from different nations. We discussed the problems related to water pollution and have remined connected with each other ever since," he reveals.  
Stepping into the world of knowledge
Having studied until class six in his hometown in Saran district of Chapra, Bihar, Praveen moved out with his mother and brother to stay with relatives in Raipur, Chhattisgarh, with the purpose of better education. His father works in Dubai, and visits the family once a year. 
Passing out of class 10 from Sant Gyaneshwar Vidyalaya and class 12 from Holy Hearts Educational Academy in Raipur, Praveen is now a fourth-year mechanical engineering student in CV Raman Global University, Bhubaneshwar.    
"I am glad to be part of an institution where students are trained to participate on global platforms like Worldskills and make their country proud by bagging medals," he says.
"All credit goes to my expert, Professor Samantaray, who trained me along with two mentors, Ms Barnali and Ms Arpita Ghoshal who work in the water technology industry."  
Together, they trained him for the curriculum which comprised five modules laid down by the WorldSkills platform in mechanical, chemical, and electrical engineering, virtual reality (VR), and environment and safety. The training and visits to water treatment plants equipped him to handle real life situations that he had to work upon at different stages of the competition.  
Happy to make his dream come true
Praveen is thankful to the Government of Odisha for being very supportive of him as a participant representing the state on the global scale, and recognising his win. "People in my village were exuberant with the news of me winning a silver."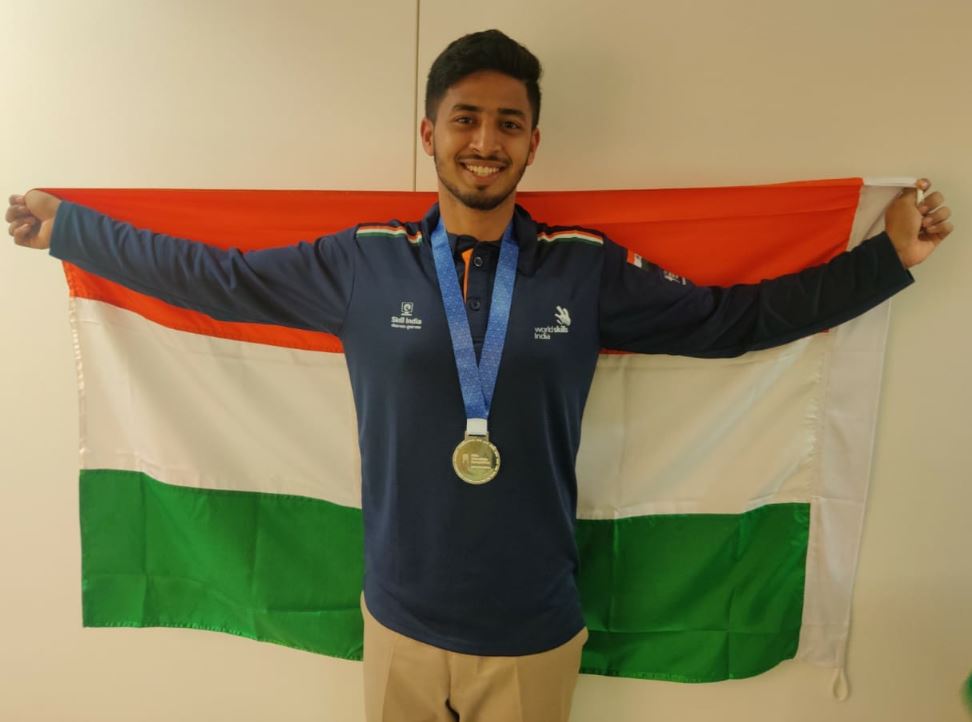 With the attention that he received in college and the number of juniors turning up to him for advice in participating in different categories in next WorldSkills edition, Praveen is living his dreams. "I feel like a celebrity," smiles the youngster.