(December 27, 2022) "Every time I think about it, it feels unbelievable," says Nandita Saxena, the young confectioner who bagged the silver in the patisserie and confectionery category at the WorldSkills Competition 2022. The youngster, who first learned about the competition in a college magazine, had dreamed of bringing home a medal ever since. In 2022, she managed it, becoming the first Indian woman to win a silver medal. The global competition, which was held between September and November 2022 is considered the gold standard of vocational skills. 
Founded in 1950, the WorldSkills Competition provides youngsters from across the globe a chance to compete, experience, and excel in their chosen endeavour. This was the 46th edition of the competition, which is held every alternate year in a new country. 
Originally scheduled to be held in Shanghai, then postponed by the pandemic, the WorldSkills 2022 is something of a 'special edition', also because it was held across 15 countries instead of a single venue. India was represented across 50 skill categories, with participants bringing home two silvers, three bronzes and 13 medallions.  
Plan to win 
"Through my college magazine I had learned that Mohit Dudeja had brought India a silver medal in the patisserie and confectionery category in 2017," says the alumnae of IHM Aurangabad. 
Nandita had discovered her love for baking as a child and when she heard of Dudeja, she pored over his Instagram profile. She was deeply inspired by one post, in which Dudeja had written, "If you have the skills, you must participate and be confident of winning."  
Nandita made up her mind to participate too, she tells Global Indian. She travelled to Lucerne, Switzerland, for the competition, going up against people from 15 countries.  
The National Skill Development Corporation (NSDC), under the ministry of skill development and entrepreneurship, Government of India, has been leading the nation's participation on the WorldSkills Platform. "Our training sessions for the competition were organised by the government," says Nandita. She was pleasantly surprised to find that Indians' patisserie and confectionery skills were comparable to the best in the world.
The ten days spent in the breathtakingly beautiful Switzerland is an experience that has got etched in the youngster's mind. Apart from the six days of events, the competitors enjoyed excursion trips. "It gave us an opportunity to get to know each other and develop friendships," she says. 
Stepping into the world of hospitality 
Passing out from Amity International School in Noida, Nandita went on to pursue a degree in hotel management. "Unfortunately, due to Covid-19, it was just one and a half year of in-college experience. But five months of intensive in-house training in hospitality management at Taj Vivanta, Aurangabad proved very helpful." 
Nandita also did an internship at Lavonne Hospitality, subsequently getting a job there, which helped her hone her skills even further. There, she was mentored by the senior chefs, who, upon learning that she was participating at the WorldSkills competition, wholeheartedly guided her. "It was good for me that the competition was postponed due to the pandemic. The delay helped me polish my skills and learn enough to bring home the silver medal," Nandita remarks. "Most of the modules required for the competition were covered by my mentors, and the rest was taken care of at the government organised workshop," says the pastry chef, who always looks forward to learning new things. 
For WorldSkills challenge, participants begin with a regional round and graduate to the national round, with the winners going on to represent the country on the global platform. The national winners are assigned an expert, who train them for the international challenge. That's how Nandita became a protégé of Vinesh Johnny, one of the cofounders of Lavonne Academy.  
Baking and tennis 
The multifaceted youngster has been a national level lawn tennis player. "I started baking at the age of six and playing tennis at eight," she says. She spent her school years juggling her academics, baking and tennis. "I was six years old when I decided I wanted to be a pastry chef and at 16, I started catering neighbourhood orders for cakes and pastries," Nandita says.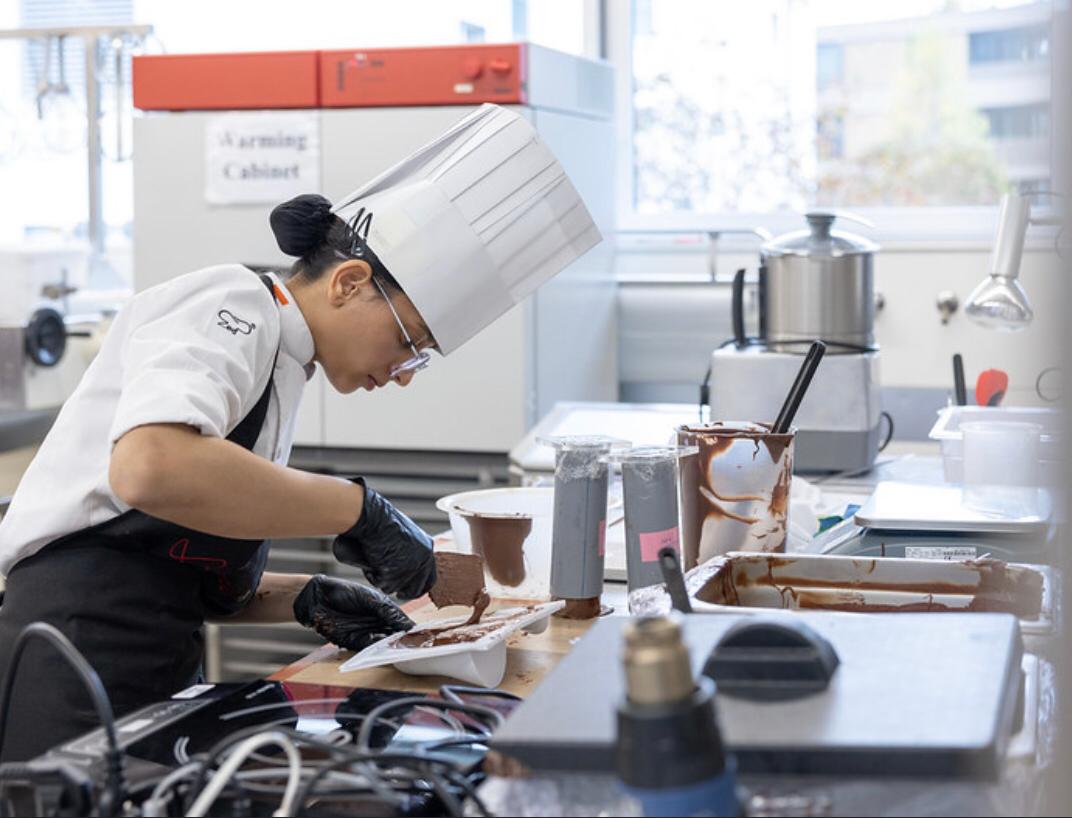 Nandita played tennis under the aegis of The All India Tennis Association, the governing body of tennis in India. "Since I grew up in Noida, I played several tournaments representing Uttar Pradesh," says the youngster, whose all-India rank was 77 in the under -18 categories. "I have also represented Uttar Pradesh several times in national competitions organised by CBSE," she adds. 
From protégé to mentor 
Nandita comes from a family which is artistically inclined. Her parents are architects and her elder sister is a dentist. "Ever since I can remember, I had an inclination towards taking up a career that is creative," tells the pastry chef. 
With loads of happiness that has come her way after winning a silver, Nandita has been busy not just working in the baking division of Lavonne Hospitality's cafes but also taking classes at Lavonne Academy of Baking Science and Pastry Arts. "I will also train the next competitor who will represent India in the patisserie and confectionery category at WorldSkills," says the twenty-two year old.  
"From clearing the state levels to representing at the international platform WorldSkills has been a journey of personal growth and everlasting friendships," she signs off.