(February 3, 2022) "Be mindful," Udit Singhal implores in a TedX Talk. It is that same mindfulness that saw him solve the glass menace in Delhi. The UN Young Leader for sustainable development goals is a sum of many parts – social entrepreneur, youth leader, finance and tech enthusiast, artist and golfer. Primarily, though, he is a student at University College London (BSc in management science), and proactive on world issues. The 20-year-old was one among 17 selected by the United Nations for his contributions in 2020. Udit now hopes to galvanise the youth to work towards SDGs.
The UN Young Leader, Udit founded Glass2Sand at 16 to address the glass dumping problem – it was the result of the glass bottles he encountered piling up at his home. "I asked why. I found that the collection of glass bottles for recycling is unviable due to dropping demand, large storage space requirements and high transport costs. Empty glass bottles are not segregated anymore, and have started to be dumped in landfills," reveals Udit Singhal in an exclusive to Global Indian.
The then enterprising teen uncovered the silent glass waste crisis, channelising his solution-driven mindset. "I founded Glass2Sand, an environment-friendly zero-waste ecosystem and 'no glass to landfills movement' which stops glass bottles from being dumped in landfills by crushing them into commercially valuable sand, and repurposing it for sustainable construction. It is plugging a major gap identified in recycling of such materials," says the young visionary.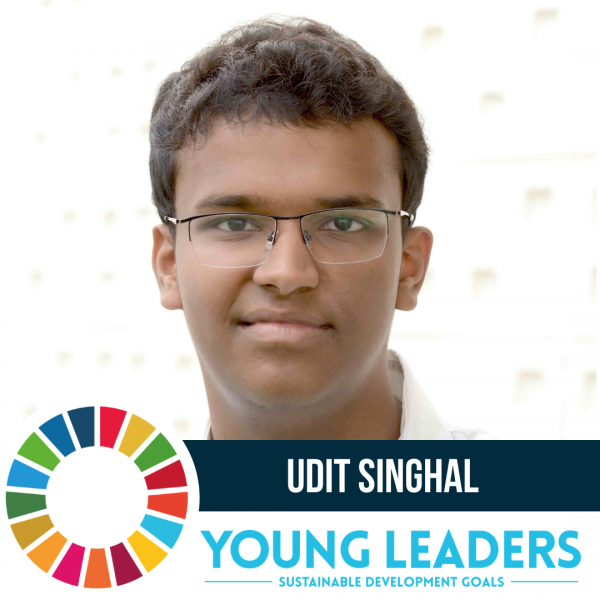 Singhal also got a special grant from the New Zealand high commissioner in India, which aided in formalising an understanding with Kiwi patent-holders, "This helped me import technology from New Zealand that crushed glass bottles in under a minute," smiles the university student.
The boy who saw too much waste
What gives Udit a decisively better understanding about problem solving evolved from a "family of trailblazing entrepreneurs."
"My parents pioneered in setting up the market for international wine in India 25 years ago, when wine was relatively unknown. My father (Rajiv Singhal) was appointed Chevalier de l'Ordre National du Merite by the President of France – the second highest civilian honour. My brother, a wealth manager, was inducted into the Ordre des Coteaux de Champagne," Udit reveals. Not giving up in the face of adversity, and to think about the bigger picture is what his family has ingrained in him.
One can easily picture Udit as a child looking for places to hide and seek, and encountering heaps of bottles – wondering where he and the bottles could hide in tandem. "When I stumbled on the menace, it birthed the concept of Glass2Sand," says the entrepreneur who hopes to leverage the Kiwi technology to continue the good work.
The former IB student at the British School, New Delhi, threw himself into learning with a two-week programme within sustainable development and social entrepreneurship at Yale in 2019. Incidentally, his father is also a Yale alum.
Emulating a family of achievers
Having role models at home, he has taken the learning a notch higher as a UN Young Leader. For the young preppy youngster, serious mindedness and self-belief are key, and now he wants the youth to muster the courage to manoeuvre through hurdles. "Seeking support is a step in that direction and finding a 'good' mentor will leave you in good stead," smiles Udit. His most memorable experience was, "A meeting with the UN Secretary-General Antonio Guterres in November 2020 which left a lasting impact. The opportunity to present Glass2Sand and mobilise strategies to drive the SDG's forward offered me new perspectives."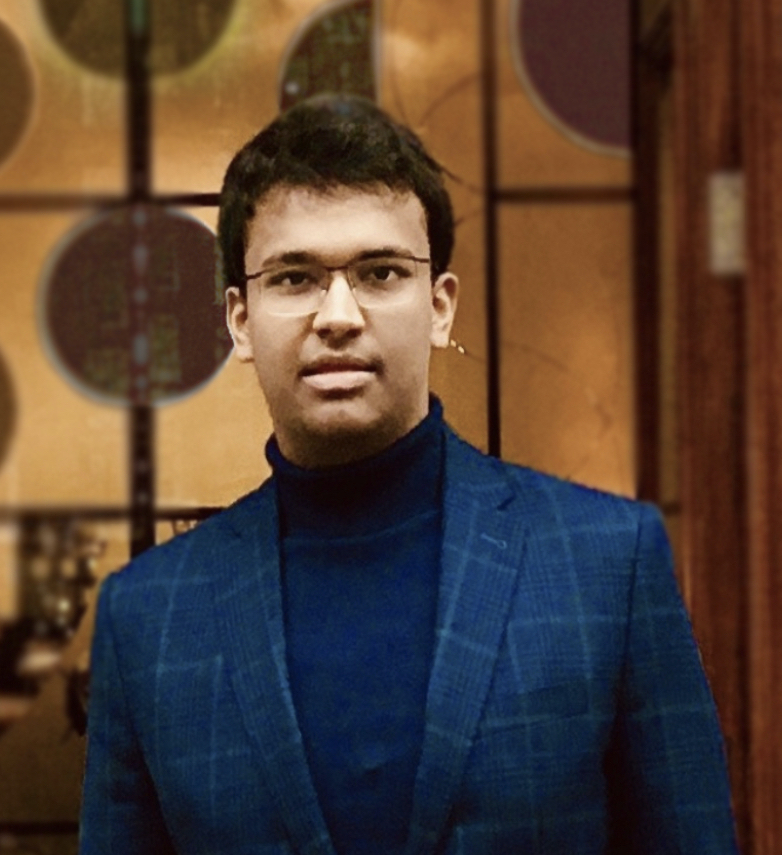 Turning glass to sand, responsibly
Seeing wine being swirled and its terroir as a normal conversation at home was undoubtedly a push to launch the "Drink responsibly, dispose responsibly" campaign to raise awareness about the silent glass waste crisis, in association with the ambassador of Hungary to India in 2019. "Till date, Glass2Sand has crushed 25,600+ bottles into 15,300+ kilograms of sand, and we now have over 350 volunteers and 18 partners (institutions and diplomatic missions) active on the Glass2Sand network," says the proud UN young leader.
Young people are calling to be able to #LearnForOurPlanet!

On Friday, tune into #COP26 as @UNESCO puts #ClimateEducation in the spotlight 📚
@YAGClimate member @pcopaloma & 1 of our #SDGYoungLeaders @_uditsinghal will also join 🙌

🕐 12 pm EDT
➡️ https://t.co/dyeYadI8bv pic.twitter.com/QEGVwWVFPz

— UN Youth Envoy (@UNYouthEnvoy) November 4, 2021
The learning continues even as he juggles classes, connects with the other young leaders, and finds impressive solutions to global challenges. "Covid has made collaboration difficult, but we have come together at speaking engagements," he adds.
Singhal also worked closely with Jayathma Wickramanayake, the UN Secretary-General's envoy at the youth office. "The best part of my appointment as a UN Young Leader for SDGs was being able to synergise and strategise closely with various UN organisations for effective youth climate action – a key learning was in taking initiative to create impact, rather than waiting for things to happen," says the boy who is at heart a forward thinker.
A UN youth leader who is artsy too
Not many know that Udit is an artist, a gene he admits having inherited from his mother. " I have been creating art since I was incredibly young. Despite being colour blind, I express myself through my artworks – paintings, sculptures and sketches. My passion for art got intertwined with my interest in the ever-evolving world of technology, manifesting in my first ever NFT Collection, Fabled Minds," says the creator, revealing that it was a vividly curated collection of mystique paintings, photographs and sketches – powered by blockchain.
The UN young leader also loves to code and develop websites, in fact, he is most excited about a bid-based e-art gallery he developed to empower budding artists by monetising their artworks.
'Putting' the responsible forward!
On a sunny day when London weather complies, a bit of golf can do Udit a world of good. He calls himself a "scratch player" who started training formally at eight, having gone to the golf course as a tiny two-year-old.
Having delivered 25 plus keynote addresses so far (G20 side-event, UNRIC, UNITAR, UN75, etc.) and a sustainability podcast for Dell India in January 2021, the UN young leader looks for inspiration in life, music and golf, of course.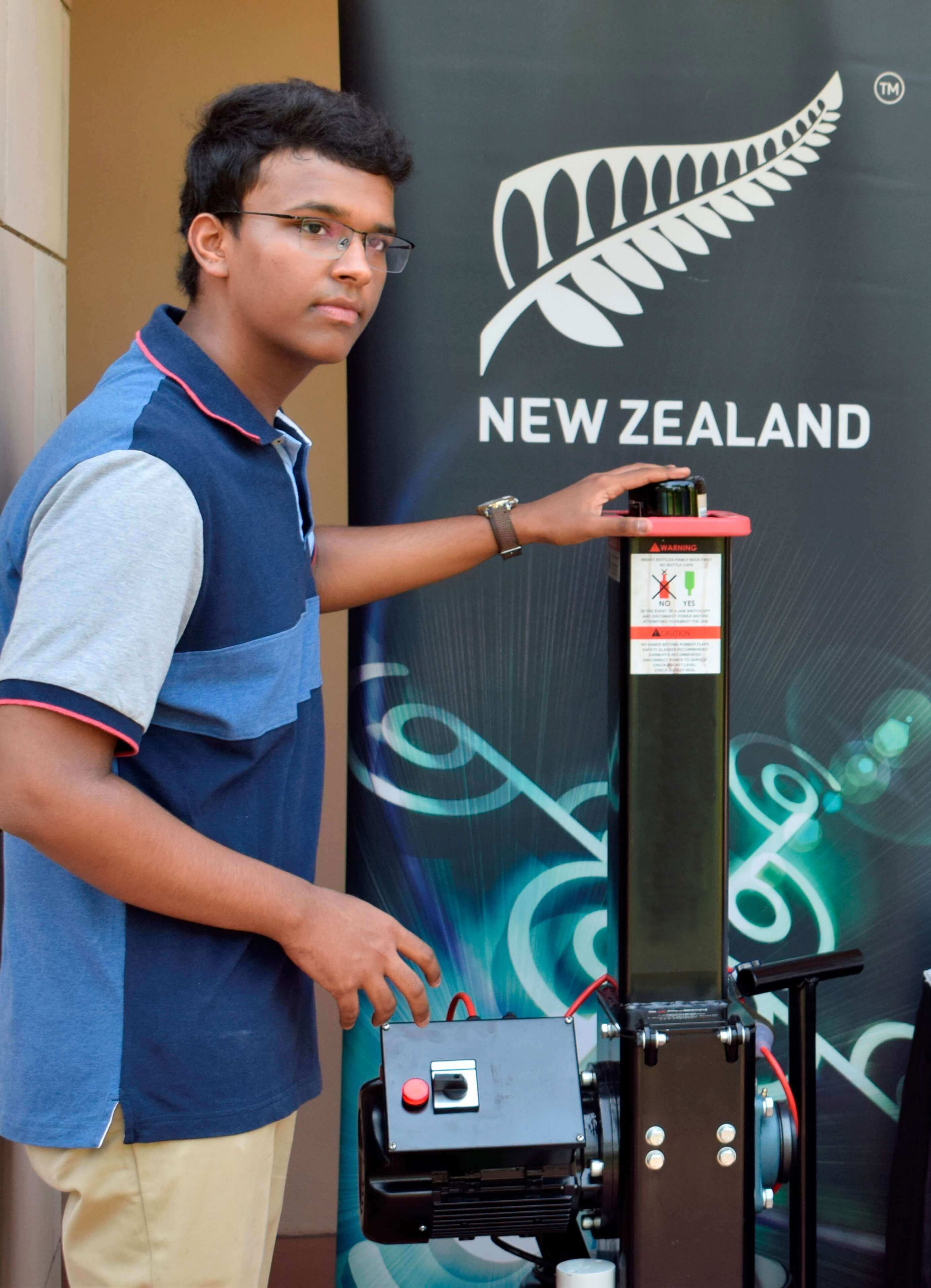 Art is a self-expression which Singhal has over the years embraced. His studio stems from this urge to create, "USStudio is a creative I founded that focuses on uplifting and enhancing the image and presence of brands through web development. It also spotlights creative portfolios – initiatives, photographs and artworks," he adds.
His philosophy in life is about being initiative-taking, and he spurs others on, "You can't just wait for something to happen – take a proactive stance – because unless you're Newton, it's unlikely that an apple is going to fall on your head. Opportunities don't appear magically. You have to lead them your way," avers the UN young leader.
Urging humans to address climate change as a collective problem, Udit says this is a make-or-break decade for the planet and instead of imagining a mythical entity to solve problems, get a solution-driven mindset.
Working from the ground up, Udit's activism is real, not just "about optics and acoustics." Not wanting to be another "nodding head in a numbered strike or draw attention through 'blank' signposts," he wants to afford real solutions. And in that regard, he has already made great strides in cleaning the world of waste glass.