(Aug 29, 2023) Rewards and accolades never seem to stop raining down on Neeraj Chopra. He has made India proud once again with a gold in World Athletics Championships 2023 at Budapest, Hungary. A master at scripting history, the 25-year-old athlete is the first Indian to win a gold in the World Athletics Championships since it started in 1983 – exactly 40 years ago. It's a historic win for India.
Neeraj Chopra was conferred a Padma Shri in January 2022, and Major Dhyan Chand Khel Ratna Award in 2021. He also received Arjuna award back in 2018. The Indian Army offered him a direct appointment as a Junior Commissioned Officer Subedar (JCO) in the Rajputana Rifles in 2016 when he was just 18. Indian Army does not appoint fresh recruits to such a position but  looking at his South Asian Games performance that year and also looking at his future potential, they made this coveted appointment.
Neeraj has several eclectic firsts to his credit. He is the first Asian track and field athlete to win a gold in Olympics 2020, and also the first track and field athlete from India to win at the IAAF World U20 Championships in 2016. His world under-20 record throw of 86.48 m made him the first Indian athlete to achieve a world record.  
Neeraj is one of the only two Indians to have won an individual Olympic gold medal (Abhinav Bindra is the other). The talented athlete had set ablaze the Olympic scene as the youngest-ever Indian Olympic gold medallist in an individual event and the only one to have won gold in his Olympic debut. He represented India in 2018 Commonwealth Games and Asian Games and claimed gold in both. Global Indian turns the spotlight on the journey of the super athlete. 
"When the desire for success does not let you sleep, when there is nothing better than hard work, when you do not get tired after working continuously, understand that you are going to create a new history of success." – Neeraj Chopra
Struggles with childhood obesity 
Looking at him now, it's hard to believe that the track and field athlete and reigning Olympic champion in Javelin throw struggled with childhood obesity. This Khandra village boy of Haryana was often teased by children. Addressing his son's ordeals of getting bullied for weight, Neeraj's farmer father enrolled him in a gymnasium at Madlauda, a Haryana province.  
Neeraj, later enrolled in a gym in Panipat and made physical activity an integral part of his life as he did not want to be an object of fun for the village boys anymore. While playing at Shivaji stadium at Panipat, Neeraj came across javelin throwers and began participating in the game The rest is history!  
Learning ancient art from modern platform
There is archaeological evidence that javelins were already in use by the last phase of the lower Paleolithic age that dates back to about 300,000 years ago. Indian Mythology talks about extensive use of this great weapon. This powerful weapon is known to be the favourite of Kartikeya (son of Shiva and Parvati and elder brother of Ganesh), known as the Hindu God of war. History is also replete with use of javelin as a powerful weapon in warfare spanning centuries. Interestingly javelin started trending in India only after Neeraj Chopra created history with it in the Olympics.  
As part of its promotional campaigns YouTube has been flashing Neeraj Chopra's tryst with Javelin stressing on the fact that it was the platform that helped the village athlete in picking up tips and tricks of the game. Neeraj has affirmed that he attempted to copy the style of Czech javelin champion Jan Zelezny while watching the YouTube videos of his performances. 
Parent's and Panipat's role in preparing the Olympian 
He mentioned in an interview:

"In the village that I grew up; no one did athletics. For a lot of my life, I didn't even know what a javelin was." 
Having discovered the game by chance, Chopra had started visiting Panipat Sports Authority of India (SAI) centre where his talent was recognised by the local coach. He helped him hone his skills and win some local competitions as well. Motivated by winning a bronze in a district championship, Neeraj persuaded his parents to allow him to shift to Panipat from the village to pursue the techniques of the game. That move was quite unconventional for the place that he hailed from and considering the fact that Neeraj was just 13 at that time.
However, adding wings to the young athlete's dreams was the best decision of his parents. Life unfolded beautifully, later. For starter, the youngster participated in National Junior Athletics Championships in Lucknow after rigorous training in Panipat and won gold there.
"My village still does not have a playground. Whenever I stay there, I need to practice on the road," he informed. His flight from such humble backgrounds to reaching the sky in international sporting events is inspiring for millions of Indians and similar to living in a dream for his parents who hardly have exposure to the world outside their province.
Sharing one of the most fulfilling moments of his life, Neeraj Chopra tweeted:

"A small dream of mine came true today as I was able to take my parents on their first flight."
International beginnings and army induction
Neeraj's first international competition was in 2013 in Ukraine. He went on to win his first international medal in 2014 at the Youth Olympics Qualification games in Bangkok. By 2016 he started training under the Australian Coach, late Gary Calvert. Neeraj's performances started improving in international games thereafter. 
Impressed with his performance at the South Asian Games and looking at his future potential, the Indian Army offered him a direct appointment as a Junior Commissioned Officer (JCO) in the Rajputana Rifles in 2016. He was inducted as Naib Subedar, a rank that is usually not granted immediately to athletes recruited as non-commissioned officers (NCO). 
Continuing with high voltage performances 
June 14, 2022 marked the high voltage return of Neeraj Chopra in the javelin turf after 311 days of the historic Olympics gold achievement. He finished a close second (winning silver) at Paavo Nurmi Games in Turku, Finland, competing with world and Olympic champions like Oliver Helander, Johannes Vetter, Anderson Peters, and Julian Weber. 
What was glorious about his second-placed finish is that the athlete had participated in a competition after close to a year since his Olympics win. Also, Neeraj unleashed 89.30m while the first-placed Oliver Helander of Finland with his personal best was not too far at 89.93m. Cherry on top was that Neeraj marked a new national record to his name with the 89.30 m throw which turned out to be his personal best. However, Neeraj was prowling for more. Just five days after this achievement his tiger moves crowned India with gold at the Kuortane Games in Finland.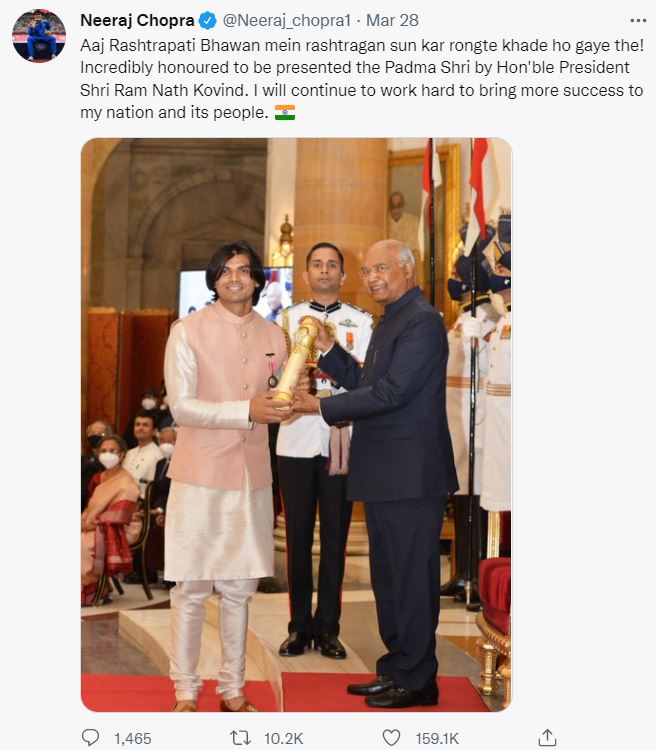 Talking about the sudden interest of youngsters in the game, he mentioned:

"

I see so much potential for Indians with the javelin. To succeed you need strength and speed, and Indian kids have that. I think, more and more, they'll see what we're achieving and will become inspired to pick up a javelin themselves." – Neeraj Chopra 
There is certainly more to come from the Olympian in the coming days. India is looking forward to celebrate all his victories!