(November 29, 2022) 17-year-old chess grandmaster Rameshbabu Praggnanandhaa, who has conquered the world in the war of checkmates, has been conferred the Arjuna award 2022.
In 2016, Praggnanandhaa (meaning 'delight of the intellect') became the youngest international master in history, at the age of 10 years, 10 months, and 19 days. The coveted 'Grandmaster' title that he earned later at the age of 12 made him the fifth youngest person ever to do so. Fondly called 'Pragg', the grandmaster defeated world champion Magnus Carlsen three times in a row in 2022, thus becoming a household name. The last of the three defeats was at FTX Crypto Cup in Miami, an international chess championship held in August.
South India is overjoyed to see their young prince on the list of Arjuna Awardees, which was announced earlier this month. It has been 14 years since a chess player from Tamil Nadu has been conferred the coveted Award, the country's second highest sporting honour.
The courteous and down-to-earth champion told Global Indian in an interview before the announcement of Arjuna award was made:

I started playing tournaments when I was very young but there is lots more to achieve.
Setting the benchmark 
Praggnanandhaa earned the title of FIDE Master at the age of 7, winning the World Youth Chess Championship Under-8 title in 2013. The champ went on to win the under-10 title in 2015. 
In 2016, becoming a grandmaster required winning three 'norms'. Praggnanandhaa achieved his first norm at the World Junior Chess Championship in 2017, finishing fourth with eight points. He gained his second norm at the Heraklion Fischer Memorial GM Norm tournament in Greece in April 2018. In June 2018 he achieved his third and final norm at the Gredine Open in Urtijëi, Italy at the age of just 12 years, 10 months, and 13 days.  
What a wonderful feeling it must be for Pragg. All of 16, and to have beaten the experienced & decorated Magnus Carlsen, and that too while playing black, is magical!

Best wishes on a long & successful chess career ahead. You've made India proud! pic.twitter.com/hTQiwznJvX

— Sachin Tendulkar (@sachin_rt) February 21, 2022
The discipline of champions 
Always a call or text away is the iconic Viswanathan Anand, India's first chess grandmaster and a five-time world chess champion. The prodigy is associated with Anand's Westbridge Anand Chess Academy.
Talking about Anand, Praggnanandhaa told Global Indian:

If I have a doubt, all I have to do is message him. It's a very big opportunity for me to get guidance from him.
Praggnanandhaa's first coach was S Thyagarajan, who has trained his sister as well. "GM RB Ramesh became my coach after that," he said.  
Life and the chessboard…
Pragg is not the only genius in the family. By the time he was three-and-a-half, he would hang around watching his sister, female grandmaster Vaishali Rameshbabu play. Although chess was never a 'plan' per se, it seemed only natural that he would be drawn to the game.
Talking about his love for the game Pragg said:

It came to me naturally and became a part of my life.
The brother-sister grandmaster duo love discussing chess moves but their practice sessions remain separate. 
Always by his side, especially as he travels for tournaments, is Praggnanandhaa's mother, Nagalakshmi. His father, Rameshbabu, a banker at Tamil Nadu State Corporation Bank, takes care of all the details involved in managing the household's two grandmasters. The class 12 commerce student at Velammal in Chennai gets support from his school as well.
My school supports me immensely and allows me to take leave to play tournaments and practice.
It hardly needs to be said that Praggnanandhaa rarely misses practice. "The duration might vary based on tournament schedules and exam timetables but I always manage to give it my time."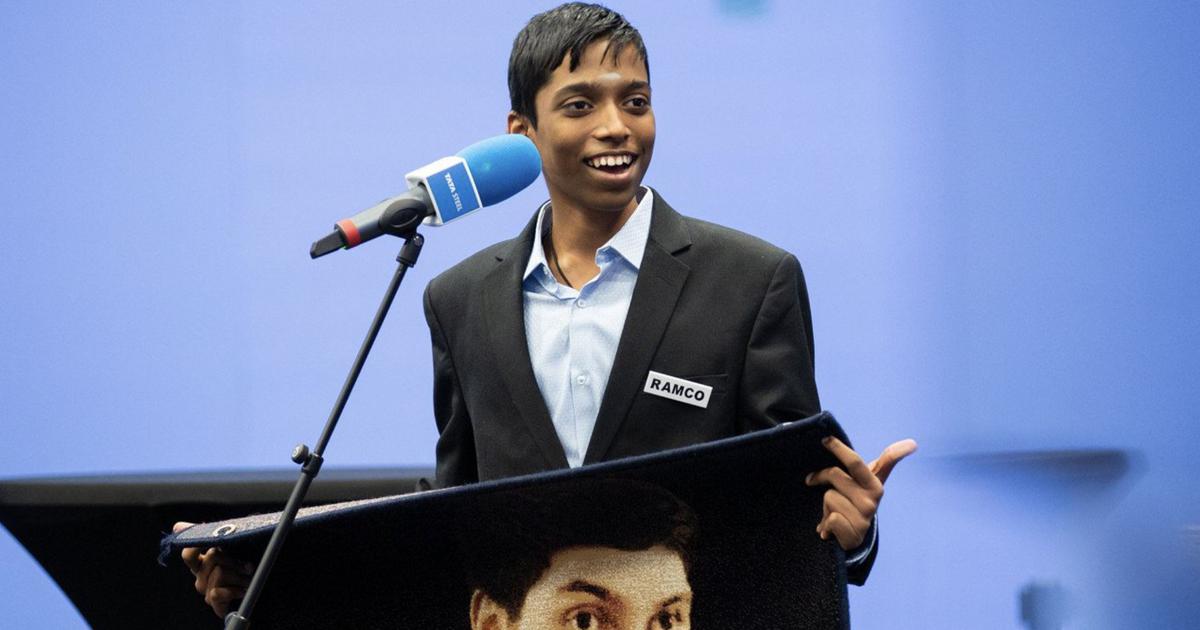 Impressive journey…
Praggnanandhaa began traveling abroad for tournaments at the tender age of seven. "I have lost count," he says, pausing to think about it. "I have probably visited 30 countries." No matter where he goes, his focus remains unwavering, concentrating on one thing only – the game that he is there to play. There is hardly time for trivialities like sightseeing.
To emphasise this, Praggnanandhaa said:

My favourite place? Any place where the tournament went well becomes a good destination for me.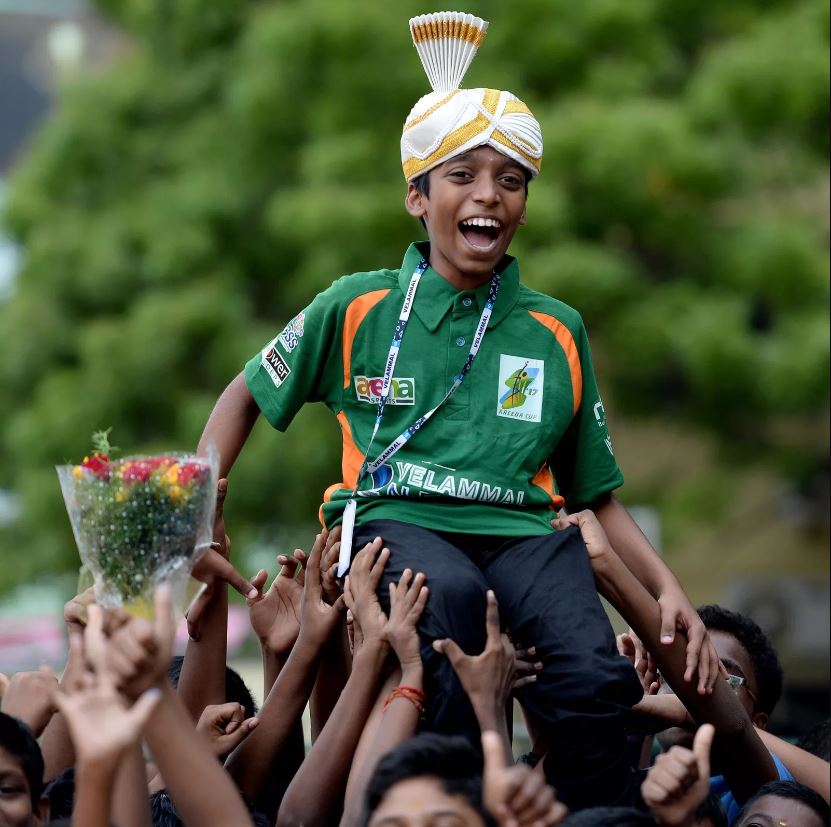 At 17, Praggnanandhaa has seen more of the world than most people will in a lifetime but is an undoubted homebody. He loves being home in India and whenever he has the time, likes to watch Tamil films. The typical boy-next-door in every other way, Praggnanandha loves Indian food more than any other cuisine and plays with one mission – To make his country proud.