(November 15, 2022) The General Assembly of Illinois in the United States was created by the first state constitution adopted in 1818. As of 2022, the current General Assembly is the 102nd one. In a proud moment for India, in such a long period of its existence, Indian descent Nabeela Syed has written history by becoming the first Indian, first Muslim and its youngest member.  
Overjoyed with her victory in the recent election she tweeted:

My name is Nabeela Syed. I am a 23-year-old Muslim, Indian-American woman. We just flipped a Republican-held suburban district.
The Indian-American democrat, whose parents immigrated to the USA from Hyderabad, was born and raised in Palatine, Illinois. She won the US midterm elections that concluded on 8th November 2022, defeating Chris Bos of the Republican Party, receiving 52.3 percent of the votes, and will be joining the Illinois General Assembly from January 2023.  
"It is important as a young Indian woman to inspire other folks (in the USA) so that we can make a mark in the country," Nabeela said in a television interview after her win.
My district was drawn for a Republican.

From the beginning, I was told that white suburban voters would not vote for "someone like me."

I did not do this alone. I am grateful for every member of our team who worked together to make the impossible possible.

A thank you 🧵

— Nabeela Syed (@NabeelaforIL) November 13, 2022
At the beginning of the campaign of the race last year, the budding politician had remarked in one of her social media posts, "When I was first considering running, I was shocked to learn that there had never been an Indian woman or a Muslim representing Illinois in the State Legislature." The youngster went on to add, "It's 2021 and it's time that our leadership starts looking a lot more like us." 
Empowering moves 
Nabeela is empowering young Muslim women to take on leadership roles within her religious community at the Islamic Society of Northwest Suburbs.  
Armed with a double major in political science and business from the University of California, Berkeley, the budding politician has professionally worked with several organisations like EMILY's List, America's political action committee to raise money to elect Democrats to Congress. 
Currently, she works for a non-profit that creates various civic engagement initiatives through digital strategy, addressing issues like preventing sexual assault on college campuses, mobilising voters, and advancing gender equity. "One of the best parts is that people are sending messages from India congratulating me.
It's incredible and humbling that the campaign gained importance beyond America," she said in an interview after her recent win. 
Proving naysayers wrong
"In our district a lot of people said that an Indian woman won't be able to win in this kind of Republican held district," Nabeela said, but undeterred, she pushed forward, campaigning door-to-door making people aware that she is there to work for the issues that mattered most to them. In the end, victory prevailed.  
Extremely happy with the positive outcome, she credited the voters, especially the youngsters, who came out to vote for her, proving that the 'right wave was not as strong as it was believed to be'.  "Many people in the country are in favour of reproductive healthcare freedom," she said, remarking on one of the main agendas of her campaign that clicked.
I will always – and unequivocally – protect the right to safe and legal abortions in Illinois. And I will fight to fix our broken property tax system while keeping our schools well-resourced.

That was her campaign message, delivered loud and clear to the people she met during the past year.  
Nabeela's voluntary initiatives
Leadership, working for causes and people skills come naturally to the youngster. She served as the Campaign Manager for current Township High School District 211 School Board Member Tim Mc Gowan, helping him publicize his values of accountability, community, and equity in the schools. 
From organizing Asian American voters to flip Senate seats in Georgia, to engaging in door-to-door campaigns to help elect Democrats in Schaumburg and Palatine Nabeela has worked to advance progressive causes on both a local and national scale which has honed her politician's skills. 
Nabeela's take on Hijab
The young politician who advocates interfaith dialogue believes that it's an individual's right to choose when it comes to wearing hijab, just as it should be for choosing reproductive freedom. "It's my choice to wear a hijab and no one can force me to wear it or not wear it," she said.
I am so lucky to have that choice and I choose every single day to wear hijab and represent Muslims and be very proud of it. However, I believe that the choice is necessary and every young girl should get the right to choose.
Right from her high school days Nabeela has had some uneasy experiences with some pupils calling names but the strong girl knew how to deal with it.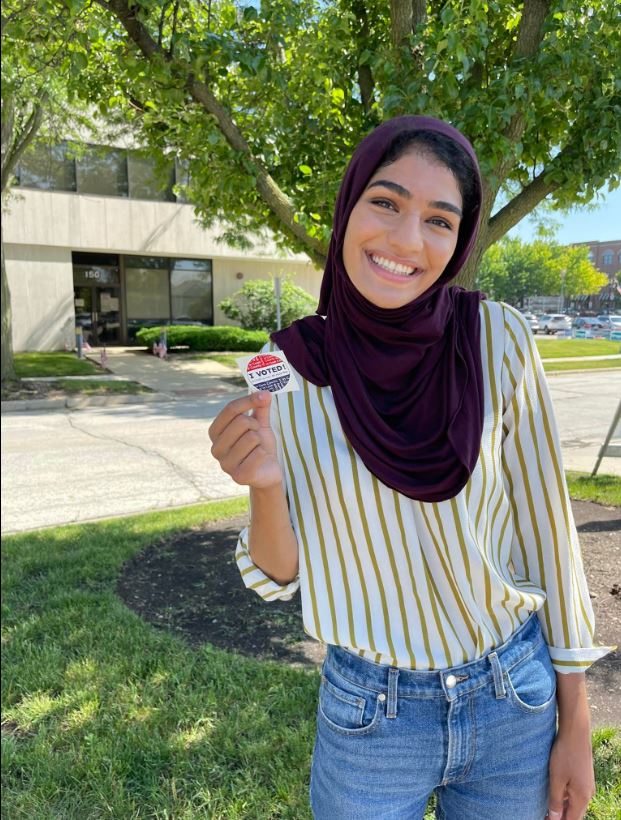 In fact, it was one of the reasons people even discouraged her to contest for the elections. "People told me not to run (in the election), You are Indian and visibly a Muslim wearing hijab." Still, the final outcome is 'exciting', with appreciation pouring in from 'from people in the community, across the country, and across the world,' turning who she is and where she comes from into a cause of record-breaking jubilation.
Firmly believing that people should not be discriminated against because of their faith, the young politician is humbled with her amazing victory, and is all geared up to fulfill the promises that she made to people during her year-long campaign.