(March 18, 2023) The international media sings her praises, calling her 'squash's teenage sensation'. Before her 15th birthday, Anahat Singh had won not one but two British Junior Open titles and the US Junior Open, often touted as the most prestigious global squash tourney. In 2023, at the British Open, dropping only one game combined in the four matches she played.
She was also the youngest member of the Indian contingent at the Commonwealth Games 2022 and even returned home with a victory, defeating Jada Ross of St Vincent and the Grenadines. Although she bowed out in the next round, Anahat Singh had made a name for herself as a prodigy, in one of the world's top global senior competitions.
Rooted in sport
Born in March 2008 in Delhi, sporting culture was always strong in the Singh household. Her father, Gursharan Singh is a lawyer and her mother, Tani, is an interior designer. They encouraged their two daughters to develop their athletic abilities however. Anahat's older sister, Amira, is an accomplished badminton player – she was one of the country's top Under 19 players. Eventually, she gave it up to do her Bachelor's degree at Harvard University, where she continues to play for the women's team at the university level.  Her parents were athletic too – both her parents were hockey players in college.
Incidentally, that's where Anahat started too – badminton. Being around her sister Amira was one thing. At the age of six, she watched PV Sindhu play the India Open, where she fell in love with the sport. She took it up too, going on to win a few tournaments in Delhi. A couple of years later, at the age of eight, she moved to squash. "I was drawn to it because I loved the noise of the ball hitting the wall," the Global Indian said. "I love exploring different sports but it is squash I love more than any other. I am pretty fast around the court and I don't give up, even if the score is against me."
Anahat Singh creates history as she becomes the first Indian girl to win the US Junior Squash Open title. Congratulations and well done on your fantastic achievement 🏆👏👏 #VKF #ViratKohliFoundation #Squash pic.twitter.com/nqtLqSjPFp

— Sevva Foundation (@sevvafoundation) December 22, 2021
Discovering squash
Her early coaches were her sister, Amira, as well as two former national-level squash players – Amjad Khan and Shraf Hussein. She moved up the ranks in no time, becoming number 1 in the Under-11 category before she graduated to the U-13 category. She rose to number 1 there too, in Asia and Europe. In 2018, she won her first international tournament, bringing home a bronze at the Asian Juniors, followed by a silver in the Malaysian Open.
In 2019, at the age of 11, she was catapulted into stardom when she brought home the gold at the British Open squash tournament. She was also the first Indian to do so. Also in 2019, she bagged a bronze at the Asian junior championships and a gold at the Scottish Open. Her victory was momentous but she didn't let herself grow complacent. "When I won the British and US Open, it was really exciting for a few days, but I felt like I needed to enjoy it then leave it behind, otherwise I wouldn't be able to focus on getting better for my next tournaments," she said.
Finding a balance
Now a tenth grader, Anahat studies at the British School in Chanakyapuri, where she has received support from her school teachers as well as her parents, who don't pressurise her to study. "I aspire to become a world champion in PSA and hopefully get a medal in the Olympics when squash get an entry," she said.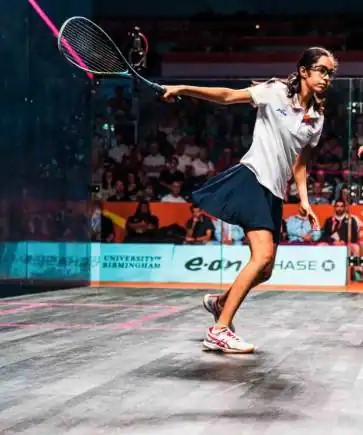 She has lofty dreams academically, too. Although she said in an interview that "as of now there isn't so much pressure in studies," Anahat hopes to study in an Ivy League, like her sister, Amira. "My school is very supportive and give me leave whenever I need to travel for tournaments. My teachers also help me catch up."
Commonwealth Games 2022
In 2022, Anahat became the youngest member of the Indian contingent, travelling with the nine-member squash squad which comprised stars like Dipika Pallikal and Joshna Chinappa. To say she was younger is putting it mildly – there was a 22-year age gap between Anahat and the veteran Chinappa. "I was worried about being in the camp with such experienced players at first, but they were really sweet and helpful, they helped me fit right in," Anahat said, just before leaving for the games.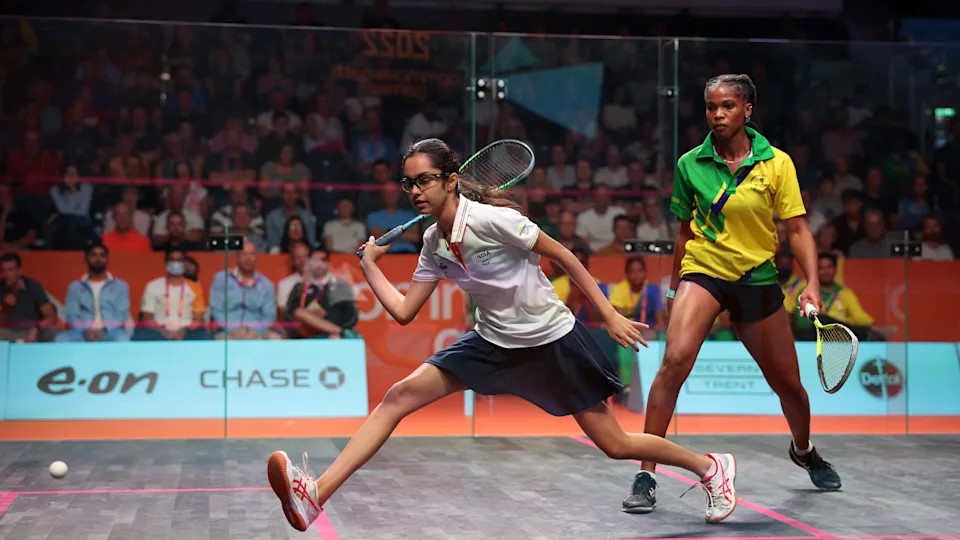 The thrill of the game
"I just focus on playing good shots and not making an error," Anahat says, adding that her favourite shot is the back hand drop. She also plays an aggressive game but keeps her spirits up, even if things aren't going in her favour. And if there's anything that keeps her from getting complacent, it's her sheer, unbridled love for the sport and thrill of the game itself.