(February 1, 2023) "The experience has been surreal. Meeting Prime Minister Narendra Modi, being felicitated by President Droupadi Murmu, and the Minister of Women and Child development Smriti Irani," remarks Anoushka Jolly, the winner of The Pradhan Mantri Rashtriya Bal Puraskar 2023. This year, 11 youngsters from across the country have been awarded for their exceptional abilities and outstanding accomplishments in fields like innovation, sports, arts, culture, scholastics, bravery, and social service. 
Youngsters like Anoushka Jolly have shown remarkable compassion and innovation. She is diligently working on an App and other online programmes to spread awareness against bullying. Glad that she is now a Pradhan Mantri Rashtriya Bal Puraskar awardee. pic.twitter.com/joIFFRIeni

— Narendra Modi (@narendramodi) January 24, 2023
Fourteen-year-old Anoushka has been awarded for showing remarkable compassion and innovation by working on an app, Kavach, and other online programmes to spread awareness against bullying. She is the founder of Innerarc Blocktech, a mental health startup. 
In 2022, the first season of Shark Tank India received entries from 62,000 entrepreneurs from across the country, out of which 198 businesses were selected to pitch their ideas to the 'sharks' – investors ready to chip in seed funding. Out of these, only 67 entrepreneurs were successful in raising funds. Delhi girl, Anoushka Jolly was one of them.  
How a victim of bullying turned into a changemaker

 

 
 "I was bullied for a year when I was in grade three," says Anoushka, elaborating on what led her to take on the anti-bullying cause. "Two classmates were emotionally blackmailing me and making me feel that I wasn't capable enough. It affected my self-esteem. I found myself doing things like apologising when it was not required. I used to be upset all the time and formed a habit of looking down upon myself until I gathered courage to talk about it," she tells Global Indian. However, what she describes as the lowest phase in her life, was also the "turning point," one that helped her "identify the purpose of life – to stop bullying and help kids be happier." 
By the time Anoushka reached class six in 2018, she launched her startup, the Anti Bullying Squad (ABS), and started conducting seminars and online sessions across the country to make people realise how severe the impact of bullying can get, starting from her own school. Educational institutions, social organisations and experts have all stood by her in her endeavour, realising there was a huge gap in knowledge and awareness. So far, her mental health startup has been able to reach several thousand students, parents and teachers from 50+ schools.
Kavach – the shield against bullying
The teen social entrepreneur soon realised that seminars and sessions would solve one aspect of the problem but wouldn't tackle it in its entirety. A real impact, she found, could only be made when incidents are reported. "Bullying continues unabated because there is hardly any intervention in schools. Authorities tend to be largely unaware of the extent of the problem. Students don't want to report because they don't want to be known for having done so," remarks Anoushka.   
Kavach is Anoushka's answer to the problem. It provides students and parents a platform to to report instances of bullying anonymously. "Schools can now tactfully intervene and take action," she believes.  
She also runs a one-hour programme which is available on the ABS website and YouTube, comprising 10 videos and MCQs to help children and their parents get sensitized about the issue.
Shark Tank India experience
The Shark Tank experience is not the youngster's only winning moment. When she was nine, she was part of the Young Entrepreneurs Academy (YEA), a US franchise that teaches entrepreneurship skills to under-18s. Anoushka had managed third place in the investor panel for pitching ABS. "Most of the students were in their teens, I was only nine at that time and the youngest of all," she remarks. "The prize amount was about twenty to thirty thousand but it boosted my confidence immensely." Happy that she could raise funds on her own, without even having to ask her parents, Anoushka invested the sum in setting up ABS. It brought her recognition among the 'Top 21 for 2021' Innovative Tech-Based Women-Led Startups by ITC & Shecapital.  
Her share of limelight on television has not been limited to Shark Tank. The social entrepreneur was recognised as a Network18 Young Genius in a reality TV show organised by Network 18. She has also received an invitation from the Ministry of Culture to be a part of the song 'Mauka Hai', as part of the Azadi ka Amrit Mahotsav celebrations. The young entrepreneur was among a lineup of 40 youth icons, including PV Sindhu, Hima Das and Mira Bai Chanu.
Bullies are not villains  
A lot of kids have reached out to her and shared their stories. "They just wanted a person to listen, and were waiting for someone to talk about it. By finding a listener, fifty percent of the problem vanishes," she says. Anoushka is happy to have been that listener to so many kids. When people share their stories, it keeps me motivated to work even harder for millions of students who are suffering from the problem," she says.  
However, Anoushka does not believe that bullies are always villains. "No one is born a bully, they are usually led into it in one way or another. We need to be open to hear their side of the story, be empathetic and forgiving because sometimes peer pressure also leads them to bully. However, the good thing is that we can always lead them back to being good," she explains.  
Journey ahead…
The daughter of an entrepreneur father and chartered accountant mother, Anoushka is currently working in the metaverse/gamification space with a focus on mental health. "As a society we do not acknowledge mental health issues of teenagers and since youngsters love immersive experiences, I am combining technology with mental health for a cause," says the teenager, who loves psychology, biology and Spanish.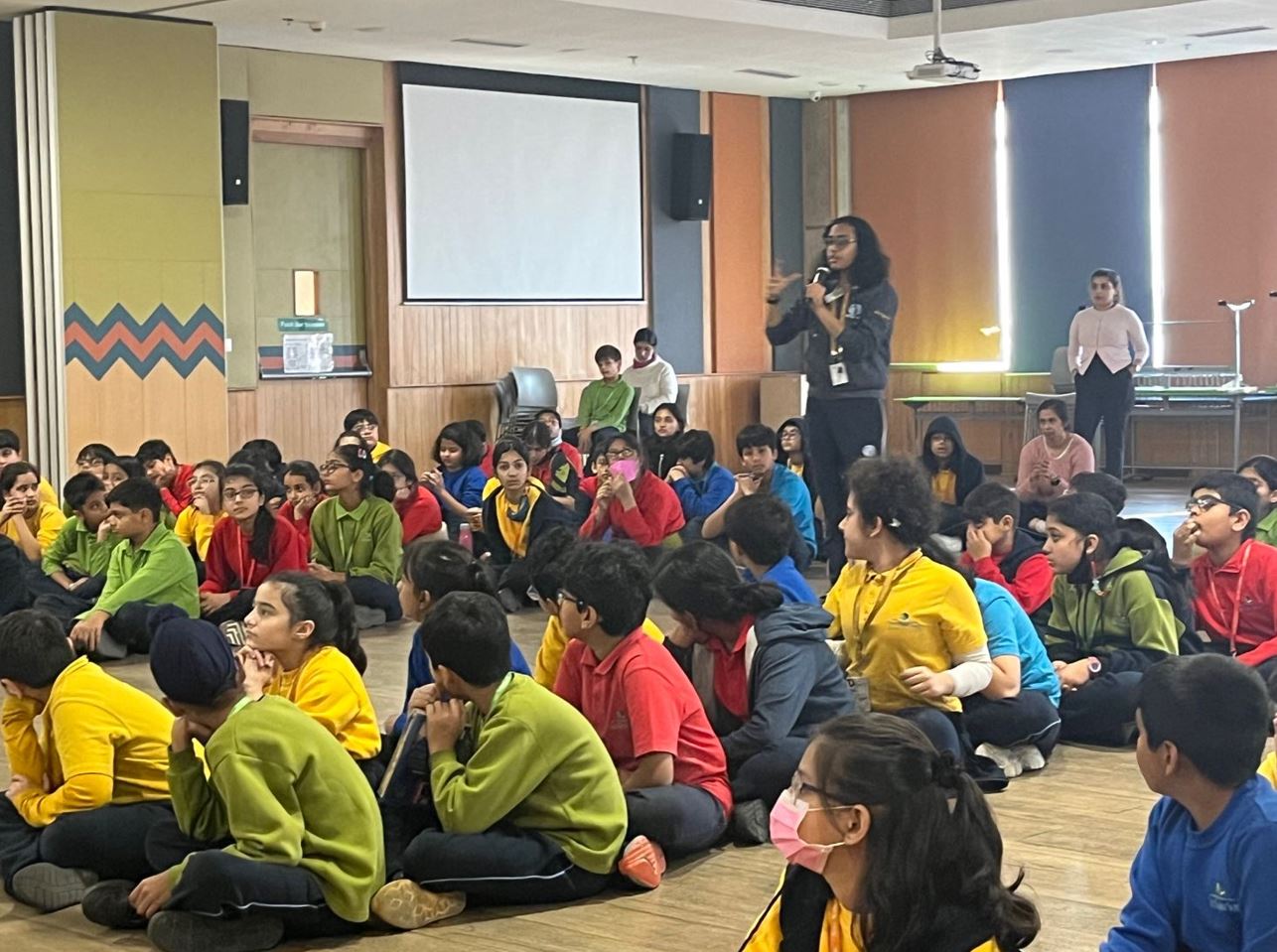 Anoushka during one of her training sessionsShe feels she has found her purpose in life and would like to continue the work she is doing but scale up in time. "I want to be very well educated and be a life-long learner," says Anoushka.