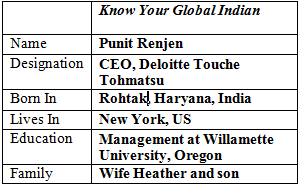 As a teenager, Rohtak-born Punit Renjen's future looked bleak. He had to give up his seat at The Lawrence School, Sanawar after his father fell upon hard times. Fortunately, a generous Rotary Foundation scholarship came along and changed his life: He went on to study management at Williamette University, Oregon, and eventually landed a job in Deloitte. Three decades later, Punit became the global CEO of Deloitte Touche Tomatsu; the first person of color to lead the 300,000-strong global company.   
Humble beginnings
His journey over the years has all the makings of a Bollywood movie. Forced to return home from Sanawar, Punit studied at local schools and at the age of 14 went to work in his father's factory as a dye operator. In an interview with Financial Review, he said:  
"I got to experience hardship at a young age. They cut our electricity and our telephones."

 

 
After college, Renjen landed a job at Usha International in Delhi; he arrived at the interview in jeans, all drenched with sweat after a two-hour bus ride. The tide finally turned in 1984 when he won the Rotary Foundation Scholarship and got accepted at Williamette University's Atkinson Graduate School of Management. Not used to the American accent, he would sit at the front of the class and record each lecture so he could listen to them again.  
Renjen's next big break came when his journey was featured in a local Oregon magazine as one of the 10 best students of his university.  Serendipitously, the magazine was picked up on a flight by a Deloitte partner, who asked his assistant to call Renjen for an interview. There has been no looking back since. 
He credits several mentors, who helped shape him into the man he is today, for his success. His first-grade teacher Mrs. Thomas, he says in a LinkedIn post, taught them that nothing was impossible when she got them to listen to a live report on the radio when man first landed on the moon. His parents taught him the value of hard work and to appreciate even the small things. In his own words, when he first joined Deloitte he was a jack of all trades and master of none. It was at that time that Tom, an M&A partner took him under his wing and taught him his craft, which Punit went on to master.
Purpose-led leadership
A firm believer in purpose-led organizations that give back, Renjen launched Deloitte's signature CSR program WorldClass, which empowers 50 million people to succeed in a rapidly changing global economy through education and skills development. Of these, 10 million are women and girls in India.  He has also been working towards improving diversity and inclusion across Deloitte's leadership ranks.   
The devastating effects of the COVID-19 pandemic's second wave in India aren't lost on Punit either. The cricket lover has been actively working towards rallying and sending aid to his homeland. He is part of the steering committee of the Global Task Force on Pandemic Response, a unified platform that is seeing the corporate sector mobilizing aid to help India fight the pandemic. In fact, the first 1,000 oxygen concentrators provided by Deloitte arrived in India towards the end of April 2021 when the second wave was at its peak.  Subsequently, they have sent more mobile oxygen concentrators and ventilators to the country.    
More recently, Deloitte developed an innovative, simple, fit-for-purpose program in the fight against COVID-19 that they launched in conjunction with the Haryana government. Called the Sanjeevani Pariyojana, it is a supervised, virtual home care initiative to help people access healthcare for mild to moderate symptoms of coronavirus quickly and with ease.  
Destination India
As CEO of the world's largest professional services firm, Punit has had his task cut out. Under his leadership Deloitte has seen double-digit aggregate revenue growth globally and has gone on to become the largest of the Big Four firms; it earned $47.6 billion in revenue in 2020. At an HT Leadership Summit in December 2020, Punit said Deloitte plans to double their India headcount of 55,000 over the next two to three years. "This is the Indian century… India has the demographic dividend, the talent opportunity, the democratic norms, and the vibrancy of the culture." 
Recognizing that the pandemic has had an unprecedented impact on the corporate world as well, Punit believes that the companies that will emerge successfully will be the ones that play good defense (ensure adequate liquidity, take care of their people and clients) as well as great offense (how they play the cards that they've been dealt). Outside of Deloitte, he is a member of several non-profits including the United Way Worldwide and the US-India Strategic Partnership Forum. He was also named an honoree to the National Association of Corporate Directors 'Directorship 100'.