What and When
Mahatma Gandhi was unceremoniously evicted from the first-class carriage of a train in South Africa's Pietermaritzburg on the night of June 7, 1893, for being a person of color.  
How 
Gandhi was on his way from Durban to Pretoria in the train when a white man objected to his presence in the first-class coach despite the Indian holding a valid ticket.  Subsequently, Gandhi was downgraded to the third-class compartment. Gandhi refused to obey these orders which resulted in him being thrown out of the train at Pietermaritzburg station.  
The iconic moment recreated in the 1982 film Gandhi
Impact 
The incident had a deep impact on Gandhi and became the turning point of his life. The seed of the Satyagraha movement was sown that night.  Gandhi would go on to fight racial discrimination in South Africa and eventually lead the freedom struggle in India.  
Quote
"If we could change ourselves, the tendencies in the world would also change. As a man changes his own nature, so does the attitude of the world change towards him. We need not wait to see what others do." 

–

Mahatma Gandhi

 
What they say about it today
From that day in 1893 in Pietermaritzburg, South Africa when a young Gandhi was thrown out of the train 1st class compartment,
to today, when the employment guarantee law named after Mahatma Gandhi provides a safety net to the rural poor of India.
What a journey. #inspiration pic.twitter.com/R4oamk0DGG

— Uma Mahadevan-Dasgupta (@readingkafka) June 7, 2021
On 7th June 1893, Mahatma Gandhi was forcibly removed from the first-class railway compartment and thrown off a train at Pietermaritzburg, South Africa. pic.twitter.com/vyPhrm877f

— arunendra narayan (@arunendranaraya) June 6, 2021
Commemoration
It was decided by the Pietermaritzburg Gandhi Memorial Committee that June 7 would be commemorated and the story of the incident and its impact on young Gandhi would be told each year on its anniversary. 
Did you know?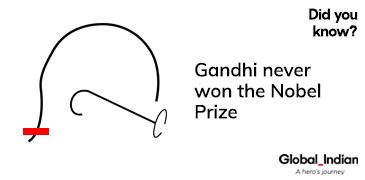 Also, Gandhi was the first Indian to be given the "Time Person of the Year" title back in 1930. 
About
Mohandas Karamchand Gandhi was born on October 2, 1869, in Porbandar, Gujarat. His father Karamchand Uttamchand Gandhi served as the diwan of Porbandar state. In his childhood, Indian classics like Shravana and Raja Harishchandra had a great impact on him. At age 18, he left Gujarat and sailed to London to study law and jurisprudence at University College. He returned to India at age 22 but failed to set up a successful law practice. In 1893 he went to South Africa to work as a lawyer for a tradesman; he spent 21 years in the country where he developed his political views and ethics.  
RELATED READ: Meet the Sikh unionist who fought for independence of India and Kenya