Surround yourself with those unafraid to ask questions, solve problems, and dig deeper. That's been the mantra for Dr Jayshree Seth, corporate scientist and chief science advocate at US-based 3M. The Indian American, originally from a Rajasthani Marwari family, has 72 (and counting) patents to her name. She is at the highest technical designation within the $32 billion company and the first female engineer to get there. She juggles multiple hats – works with other engineers and scientists to find solutions to complex problems in 3M's adhesives and tapes division, besides advocating the importance of science in people's lives. The girl who grew up thinking science and engineering were not for her, recently won the Society of Woman Engineers (SWE) Achievement Award 2020 (SWE's highest accolade). Quoting from 3M's State of Science 2021 report, Seth took to LinkedIn recently and wrote,  
"If the virus is the villain, science can be called the hero. In 2021, 85% say that science will save us from the COVID-19 pandemic." 
Love for problem-solving
Even as a child, Seth had an insatiable urge to solve problems. It helped that she and her brother were nurtured under the scientific mind of a father who did his Ph.D. on a Commonwealth Scholarship at the University of Manchester in England. As a child, Jayshree found herself in the august surrounds of IIT Roorkee where her father was a professor in civil engineering (later he retired as director at National Institute of Hydrology). "I am a beneficiary of visionary parents," she told Global Indian.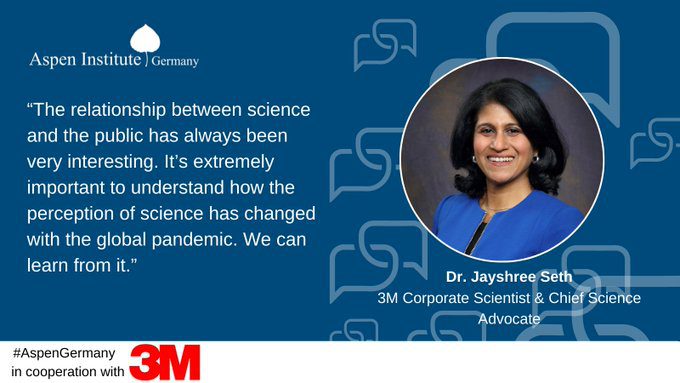 Seth followed her parents' advice and tried for IIT Roorkee. She didn't get through and instead went to the National Institute of Technology, Tiruchirappalli. Later, she went to graduate school at New York's Clarkson University. 
In a write up for British Science Week, Seth wrote: "It was actually at university, when I started doing experimental work on hard coatings to protect surfaces, that I realized for the first time how excited I was to plan my experiments, conduct them and write up the results to communicate in an understandable way." 
Computers to chemicals
At Clarkson, she had to take her life's first major decision on her own. While working on computer modeling for her masters, an incongruity hit her hard: Her desire was to make the world a better place but she was pursuing something unrelated.
"I thought 'is this what I want to do in life? I made the scary decision to switch topics for my Ph.D.," she adds. 
While still a Ph.D. candidate, 3M came knocking with an internship and that put her on a path to conquering the mercurial and invigorating yet gender-biased world of science. She has been with the same company for 28 years.  
Patents for diapers
Many of her early patents were on closures for disposable diapers, although she had never seen a diaper before joining 3M.  
Ask her if she has any favorite patents and pat comes the reply: "They were all equally rewarding because of the journey, and the people I got to brainstorm with and learn from." 
She also shares a patent with her husband, (a fellow 3Mer with a PhD in Chemical Engineering) on window films. The mother of two, a boy of 23 and a girl of 19, feels her children are an inspiration who have taught her the importance of having an open mind.  
Scholarships for under-represented communities
In December 2020, she created an anecdotal compilation of her journey in a book 'The Heart of Science – Engineering Footprints, Fingerprints & Imprints.' Proceeds from its sales are going towards a scholarship for under-represented minorities in science, technology, engineering and mathematics, administered by the SWE. Today, Seth also mentors and encourages girls in STEM. It's almost unreal to hear her admit that she was not the "science type." She reiterates that it is possible to carve out a path to success even if you aren't as smart as some of the others. She calls out to girls who are missing out on science because of the way the world "talks, teaches, trains, tracks and typifies education, career and success – very male-centric." Her journey, she hopes will inspire change in STEM for girls. A song she had written and put to music raised funds for United Way, one of the US' largest non-profits.  
Gender bias in science
She has battled the science industry's legacy of bias and admits to feeling a lack of self-assuredness which fuels her to gain knowledge.
"You have to discover your 'virtuous cycle' that allows you to be authentic. Understand that the typical male projection of outward confidence may not be the only indicator of talent and skills," she adds.