(January 7, 2023) At 18000 feet above sea level, Illinois-based Saanvi Sita Mylavarapu stopped feeling her feet. With no insulated boots to keep her warm, she felt "like a thousand needles were poking at the same time." Having arrived at the Mt Everest base a day before, Saanvi was excited for her trek to Kala Patthar, known for its incredible views of Mount Everest. But it was unlike any of the treks she had ever been on. The mountaineers who were happily sitting by the fire the night before were airlifted in helicopters the next day. "The uncertainty due to altitude" hit her hard during the trek, but it was her mental strength that kept her going. Despite reaching a stage when she stopped feeling her feet, she kept walking. "I kept thinking about getting to the top and kept reminding myself why I was doing this," says the teenager for whom the ascent was the first step towards her goal of climbing all seven summits someday.
She was only six when she began going on hikes, and in the last nine years, she has hiked over 25 national parks in the US and most recently made it to the top of Mt Whitney through Mountaineer's route. But her passion for hiking comes with a purpose. The Independence High School student is on a mission to inspire teenagers to be close to nature. "The best things in life are free – sunlight, water, air, soil. I want people to spend more time in nature. We don't need to save the planet. We just need to stop spoiling it," Saanvi tells Global Indian.
A childhood hobby turns into a passion 
The Chicago-born girl was five when she first saw her dad's sparkling eyes after he returned from a hike. As a young girl, it got her excited to see that a hike made her dad this happy, and soon the family ended up taking a road trip together to Tennessee Kentucky to visit Mammoth Cave National Park. "Being in nature changed the way I view the world. My mom, who has chronic issues, has been my inspiration as I saw her going through transformative change, thanks to being in nature," she adds. Soon, it became a regular affair, and every holiday season, the Mylavarapus would take off to a new national park. While most of her friends would go to beaches and resorts, she was the only one going on hikes. "For us, it was a great family bonding time."
What began as a passion for nature soon took the form of a purpose when in elementary school, Saanvi was introduced to climate change. However, the first thing that came to her mind as a 10-year-old was, "but my lifestyle is sustainable." And she kept wondering why? "Some research helped me understand that as a nature lover, I had a lower carbon footprint and it's also helping heal my mind, body, and soul. That's when I realised that everyone can make a connection with nature." This led her to start an Instagram page which she uses to inspire more youngsters to take their heads out of the screens and revel in the beauty of nature.
Choosing nature over technology 
Her first brush with nature began at an age when she was yet to be swarmed into the world of digital media. And it was this that helped her find her rhythm in a chaotic world. "Since I'd be hiking and backpacking for weeks in areas where there was no mobile connectivity, I realised how little things we need to be happy. I don't use electronics much. In fact, walking in nature is more entertaining to me than social media."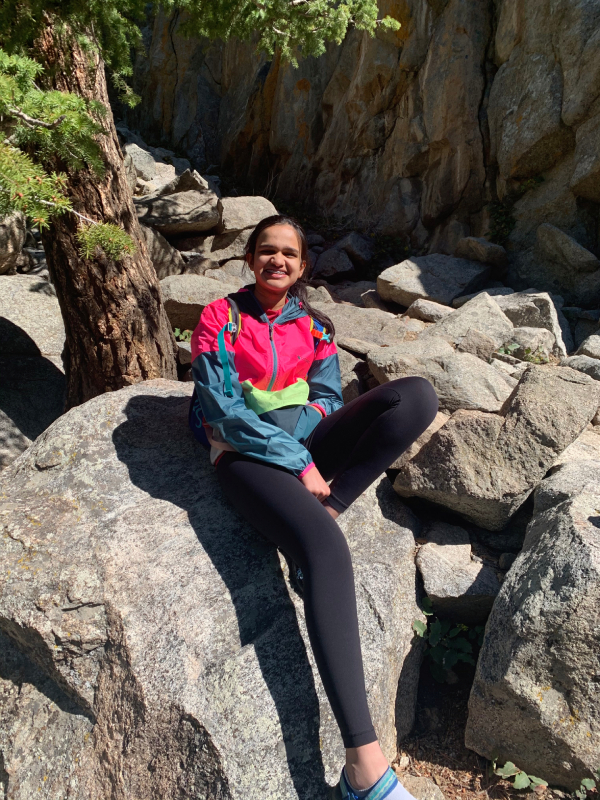 Saanvi, who is a National Park Trust Student Ambassador, never misses a chance to help kids understand how they can contribute to nature. "The new generation is engulfed in technology, and I want to encourage them to go out. Instead of breathing recycled indoor air, go out and breathe fresh air. Spend more time in nature, and help the planet at the same time."
Making it to the top 
This love for hiking later translated into a passion for mountain climbing, and she did start on the right food with Kala Patthar and Mt Whitney. "I think that high to be on the top of the world is true. It is unimaginable happiness," she beams, adding, "In the end, everything seems worth it, even the pain. Because you want to do this all over again." But it isn't a cakewalk as Saanvi has been hiking for years and does rock climbing three-four times a week. "I am in the cross-country team of my school. But more than physical, one also needs to focus on mental strength." So, what keeps her motivated to keep marching forward even during strenuous climbs? "My favourite food," she laughs, adding, "I keep thinking of these two fast-food places in the US that I go to for a taco and a burrito. That's how I keep myself motivated."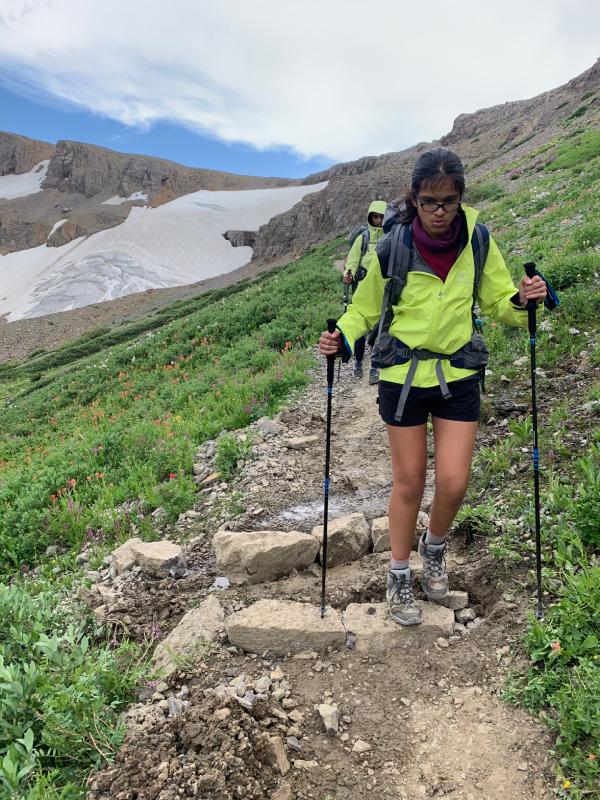 It's been nine years since Saanvi has been hiking, and she calls her parents the wind beneath her wings. While her dad Naveen, who is a bank manager, got her interested in hiking, she calls her mom an inspiration. "Even on days that I felt like giving up, they kept pushing me and helped me get past my mental blocks." Still, in Class 11, Saanvi is yet to find her future road map but wants to be either a doctor or a marine biologist. However, at some point in life, she sees herself just hiking. For someone who loves hiking, is learning Kuchipudi, and is a trained violinist and a Carnatic singer, Saanvi likes to strike a balance. "I focus on what I'm passionate about."
View this post on Instagram
Ask her for a piece of advice, and the teenager says, "Simple changes can go a long way, and help reduce carbon footprint and climate change drastically. Earth is a couple of billion years old, and our life span as a human is 70-80 years. So, in these years, explore the earth as much as you can."