(December 2, 2022) 2022 proved to be a golden year for Indian boxer, Nikhat Zareen. The sports star, who started her journey as the only girl in Nizamabad's boxing academy, won several gold medals in various international boxing championships held this year, including Commonwealth Games, IBA Women's World Championship, and Strandja Memorial Boxing Tournament. And on November 30, the pint-sized boxer was conferred with the prestigious Arjuna Award by the President of India, Droupadi Murmu. "It's an absolute honour to be conferred with the prestigious Arjuna Award by the Hon'ble President of India Smt. Droupadi Murmu Ji. Gratitude to the Almighty for guiding me on my journey and to all those who shared it with me. Onwards and upwards!" the champion tweeted after receiving the Arjuna Award.
Although there were several hurdles in life – from relatives and close family friends not agreeing with her choice of career, to facing a financial crunch to support her boxing – Nikhat held on to her dreams and emerged victorious. "I remember telling my father that someone had told me that boxing is not meant for girls. He told me, there is nothing one can't do if they are determined," she shared with Global Indian during an exclusive interview, adding, "After I first stepped inside the box, there was no turning back. I knew boxing is what I wanted to do. My father supported me throughout my journey, encouraging me. Today, after I have won many medals, I feel that all the hard work was worth it. However, I have much more potential and a long way to go."
Despite winning so many medals, the boxer feels that she "cannot afford to take a break." Passionate and focussed, the 26-year-old boxer is training hard to claim many more medals for the country. "I took a short leave to visit my family in Nizamabad after winning the World Championship. But I am back at the training camp now. My next aim is the 2024 Paris Olympics. I dream of winning gold there for my nation," Nikhat said.
Humble beginning
Nikhat started her sporting journey in a town called Nizamabad, in erstwhile Andhra Pradesh. Participating in several school competitions, Nikhat was a junior sports star. The Indian boxer shares that her father is not only her biggest support but also an inspiration. "My father was also a sportsperson. He was working in Saudi Arabia, but when he got to know that one of his daughters is interested in sports, he left his job and came to India. Despite many people saying that I am a girl, and can't box, my father constantly encouraged me and reminded me that the first rule of any sport is to not give up," shares the girl boxing champ whose father mentored her early on.
It took her just one year to prove her mettle in boxing. She won several state and national level championships and was inducted into the Sports Authority of India in Vishakhapatnam to train under Dronacharya awardee, IV Rao in 2009. With her hard work, Nikhat was selected to represent the country at the 2011 Women's Junior and Youth World Boxing Championship in Turkey.
"I took a short leave to visit my family after winning the World Championship. But I am back at the training camp now. My next aim is the 2024 Paris Olympics. I dream of winning gold there for my nation."
"I defeated the Turkish boxer Ulku Demir, which everyone said was going to be very difficult as she had the support of the crowd. But frankly more than winning the competition, the greatest moment of that tournament was when India's national anthem was played after I won gold. I was overwhelmed and that was the moment I decided that I will become a professional boxer," she shares.
View this post on Instagram
Not only was this the first win at an international tournament for the Indian boxer, but this was also the first time she sat on the flight. Just before leaving the country for the competition, Nikhat shares an amusing incident, "I have motion sickness, so I requested a window seat on the flight. I didn't know that you can't use those windows."
Scaling new heights
After the Turkey win, there was no looking back for Nikhat. She won medals at various national and international events, including the 2014 Youth World Boxing Championships, in Bulgaria, the 2014 Nations Cup International Boxing Tournament, in Serbia, and the 2015 16th Senior Woman National Boxing Championship, in Assam.
However, in 2017 the champion's shoulder snapped during an Inter-University Championships bout, forcing her out of the ring for a year. "As sportspersons, we are often told that injuries are a part of our journey. But, there is nothing more difficult than sitting out of the ring and watching compatriots do so well. I always found myself thinking about all those tournaments I could have been winning medals at. I was mentally down. Many people said that I was finished and had no chance of representing India again," shares the Indian boxer.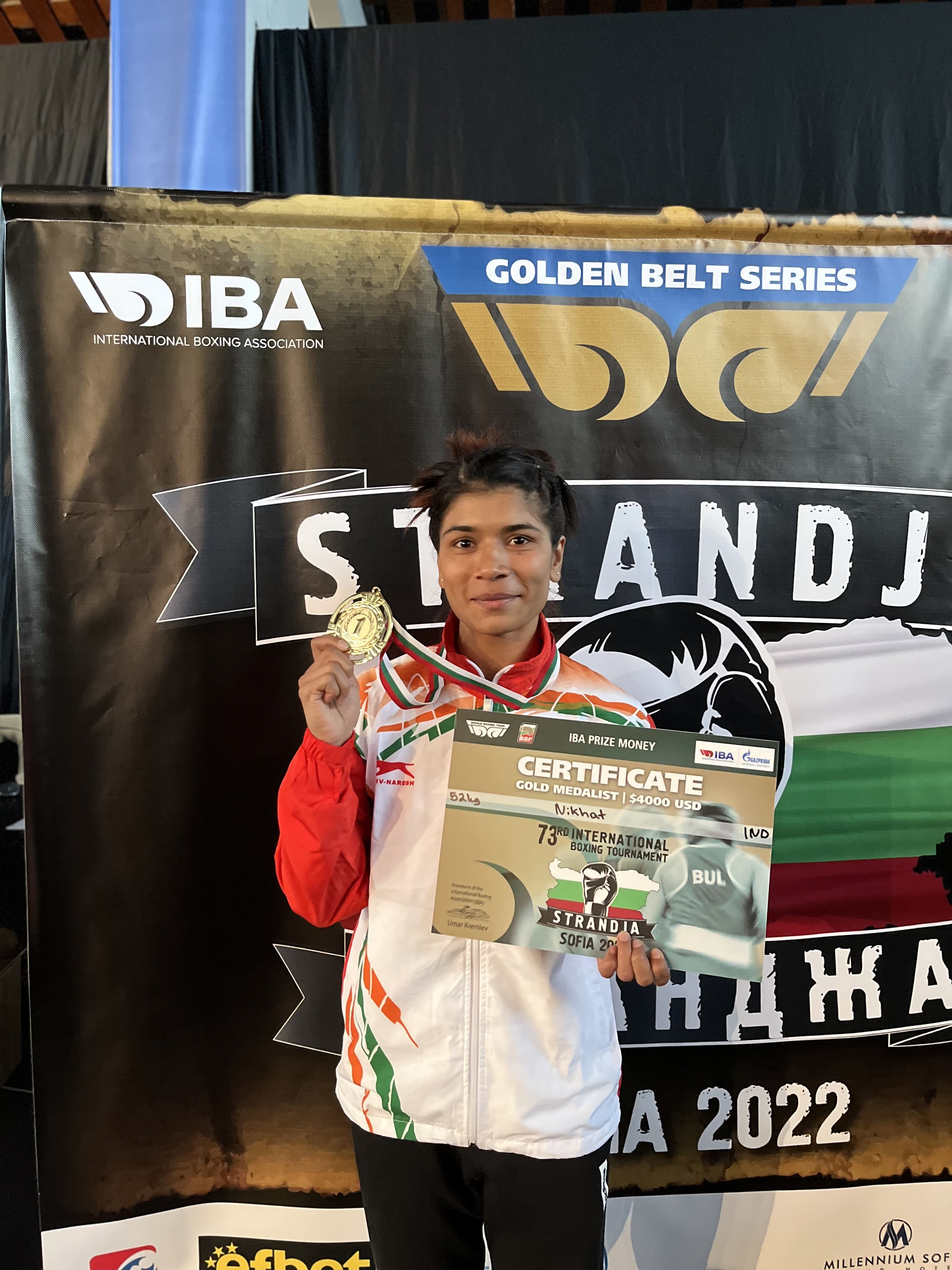 But just when people were about to write her off, the girl boxing champ made a resounding comeback after winning gold at the 56th Belgrade Winner International Championship 2018. "Before that tournament, I remember I was determined to show everyone who thought that my career was finished, what I was made off. I practiced a lot and finished on the podium," says the smiling girl boxing champ.
Winning the world
Currently at the national camp taking place at the Indira Gandhi Stadium as a flyweight boxer, she feels she doesn't just need power. Explaining further, the girl boxing champ says, "(I need) speed to step in and out, duck, weave and throw punches. For any tournament, I do strength training – to convert strength into power. We also do cardio, and train in the ring."
A foodie, Nikhat enjoys trying new things. "When I travel for tournaments, I hardly get time. I just keep training. However, whenever there is a chance of getting a break, I go out and eat with my team members. In fact, whenever I am back in Nizamabad, I catch up with friends over street food. Although, I have to keep a tab on what and how much am I eating," shares the Indian boxer.