(November 28, 2022) Laiba Abdul Basit remembers the very first book she ever read. "It was 101 Stories for Girls," she tells me. A prolific reader by the time she began school, the now eleven-year-old Laiba Abdul Basit entered the Guinness World Records in 2022, as the youngest female author to publish a book series in English, having brought out her second book at the age of 10 years and 164 days. The author of the Order of the Galaxy trilogy, Laiba broke the record held by Saudi Arabian author Ritaj Hussain Alhazmi, who was 12 years old when she published her series.
Laiba is a girl of few words, pausing to write in her book from time to time as she speaks with Global Indian. She appears stoic even about her Guinness achievement, admitting later, "I don't know if I like being famous, really. I'm scared of cameras." The family was away on a trip in Calicut when they received the news.  – "We went back home, to my father's ancestral home in Kerala and everyone was so happy. It was a very joyous night." Media attention was plentiful, thanks in part to Laiba's grandfather, who worked as a journalist in Qatar and talked about his granddaughter online.
A born wordsmith
Born in Kerala, Laiba grew up in Doha, Qatar, where her father, Abdul Basit, works in the oil sector and her mother, Thasneem Mohammed, runs a business. "I started writing through reading," she says. "My mother taught me the alphabet and how to read before I joined school." She's still a prolific reader, listing Enid Blyton, JK Rowling and Roald Dahl as her favourite authors. Her grandfathers, KM Abdur Raheem and Mohammed Parakkadavu were cultural and social activists in the Gulf Cooperation Council.
By the time she was in the first grade, she began writing herself, scribbling short stories, ideas and phrases in a notebook, and even on pieces of paper that she stuck to the walls of her house. "I was in first or second grade when I decided to write my own stories," Laiba says. "I showed my teacher some of the short stories and she told my parents about it. After that, my parents started taking an interest."
Penning her success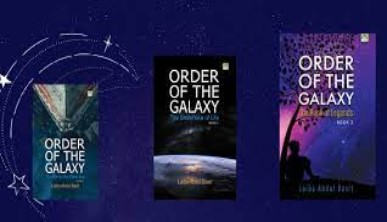 When the first lockdown was imposed in 2020, Laiba switched to typing instead and finished her first book, 'The War for the Stolen Boy'. It took her about a year and a half to write. The series tells the story of four siblings who go out on intergalactic adventures. "I was inspired by writers like Morgan Rice and JK Rowling to do my own thing," Laiba remarks. "I had also developed an interest in astronomy at that time. Since I didn't know much about space, I thought I would go with fantasy.
When The War for the Stolen Boy was complete, Laiba and her father approached a university press in Doha. Unfortunately, the publishing process had slowed down due to the pandemic. "I found out about Kindle direct publishing and three hours later, the book was ready." The second book was taken up by Dr Sabrina Lei, Director of the Rome-based Tawasul Europe Centre for Research and Dialogue. "It took me about six months to write. I remember finishing it at 4 am and rushing to wake my father to tell him. He thought he was having a dream," she laughs. The third book in the series, The Book of Legends, was published by Lipi Publications.
Looking ahead
The Guinness World Record holder is already working on her fourth book, an epistolic novel about two friends who live sixteen hours from each other. The story is told entirely through their letters and she is looking for international publishers. All this is made possible by her parents, who have been extremely supportive of their daughter. "They deal with all the documentation and everything required for publishing. They help me edit my novel as well," Laiba says.
In her free time, she enjoys roller skating, these days inside the apartment as FIFA fever grips Doha. What does she want to be when she grows up? "Math is my favourite subject," she says, thoughtfully in response. "I want to keep writing but I would also like to try something new." Breaking into a grin and finally giving me a glimpse of the child within, she adds, "I want to be a leader when I grow up. I want to be President."
Check out Laiba's series, Order of the Galaxy here