(August 17, 2022) In the last 50 years, Maharashtra has witnessed a seven-fold increase in drought events, according to a study by the policy research institute, Council on Energy, Environment and Water (CEEW). While some people in drought-prone areas have learned to live with it, others have fought ferociously to combat nature's fury. One such young environmental leader is Sanskruti Dalavi, the teen from Diskal village of Satara district, Maharashtra. "People in my village had to travel 14 kilometers to fetch water, six months a year. If water came to us in tanks delivered by the government, people often got into ugly fights amongst themselves to get their share," says the 19-year-old in a conversation with Global Indian.  
By coming up with water management solutions and bringing together warring villagers, the teenager has displayed leadership skills. She got successful in talking villagers to working together to dig Continuous Contour Trenches (CCT) leading to higher groundwater levels, water conservation and reduction in soil erosion. "Now people in my village have to walk just one month instead of six months in a year to fetch water from far away," she informs chirpily.  
From less to more
With Sanskruti and her friends' initiatives, the villagers of Diskal dug a 3,000-meter CCT by themselves and a 6,000-meter CCT with help of equipment in 2019 to bring up the groundwater levels. In no time, the results were clearly visible.  
In 2020, the requirement of fetching water 14 kilometers away from the village fell down from six months in a year to just a month. Borewells which were not effective even when drilled 600 feet deep started extracting water from 5 feet depth itself and that too in months of summer. As a result, agriculture was boosted, and crop produce improved both in quality and quantity. 
It all started when…
"I had to travel three kilometers from my village to attend school, where children of 12 other nearby villages studied," informs the 19-year-old. But it was at the age of 16 when she was a student of class 10 that things started to shift after she attended a one-day workshop by Paani Foundation. While most students went their usual way after attending the workshop, it left a deep impact on Sanskruti who gathered her like-minded friends and was ready to make a difference.  
"In our village, women and children were hardly made aware or made part of any yojana (programme)." Attending a workshop for the first time in life was so empowering for the young girl that she decided to bring women and children to the forefront. "If we involve a woman in any initiative, we do not get just two hands to help but many helping hands in the form of her husband and children," she adds.  
Addressing challenges with smart strategies
Despite previous efforts and initiatives to improve ground water level, not much had changed. However, Sanskruti was keen to put to good use the know-how of villagers who had worked on past initiatives. However, she had one more battle to win – the lack of unity amongst the villagers, due to political and religious differences. "If one group wanted to do some good, others did not cooperate thinking there might be some vested interest and vice versa," says the changemaker.  
"I thought that if we children get involved in doing something for our drought-prone village, people will come forward to lend a helping hand as they will not find any hidden agenda in it." This strategy worked.  
Sanskruti and her team of 25 school girls organised door-to-door campaigns in Diskal, making them come together for a common cause. It was the first time that the villagers attended the gram sabhas (meetings) in thousands and that too in quick succession. 
The young brigade also conducted special meetings for women making them aware of their significance in this whole initiative. Moreover, they celebrated community events, clubbing it with a CCT digging drive – thus bringing people together to celebrate and in turn, asking them to lend a helping hand. 
The making of the young leader
Neither did Sanskruti possess any technical know-how, nor age or experience, all that she had was the burning desire to change the plight of her village which is 55 kms away from Satara, the nearest city. "Someone will have to come forward," she says modestly about the mammoth task she accomplished that also included solutions like rain water harvesting system and drip irrigation. All the water management resources that the villagers created worked to their satisfaction following a rainfall. There is hardly anyone in the village now who does not know the youngster. 
Sanskruti got selected as Ashoka Young Changemaker 2021 along with 18 others from different parts of the country, and was invited to Bengaluru for a two-day workshop. It was her first trip outside Maharashtra and the very first flight journey.  
"I was deeply impressed by other changemakers' achievements in the workshop and developed great connections for doing more for my village," says the teen who has also received the Diana Award 2022. 
Working with a life-long mission
The Yashwantrao Chavan Institute of Science student is currently pursuing her bachelors at College of Social Work Nirmala Niketan in Mumbai. Shifting to Mumbai made her start a new initiative Pehchaan Vahi Soch Nayi (PVSN) in her native village to help instil leadership qualities among the kids.  
"Kids staying in cities have various opportunities of growth but the same is not available to village children so
I have been encouraging the kids of my village to work for a good cause and grow in the process." A total of 15 schools from various districts of Maharashtra are a part of PVSN. Her 40-member girls' team, who coordinate all the programmes, are called PVSN Thinkers.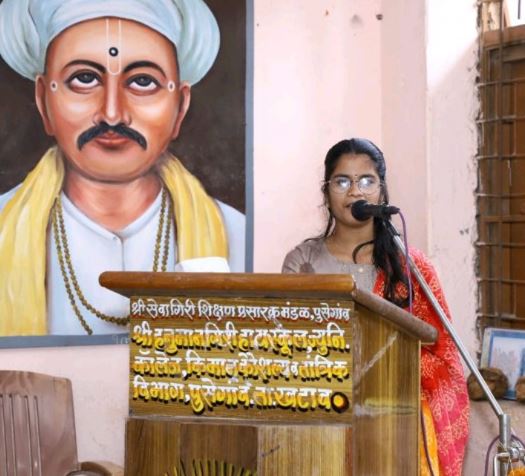 Though her village is a seven-hour journey from Mumbai, Sanskruti is at the thick of all initiatives being taken by her Thinkers team. The daughter of a farmer father plans to return to her village and work for its greater good after completing her studies. "For now, my aim is to create more and more 'thinkers' so that they not only help in village development but also develop their own leadership skills in the process as girls have rare opportunities of growth," says the changemaker whose mother is an Anganwadi worker.