(October 5, 2022) Sprinter Hima Das created history by becoming the first Indian to win a gold medal at a track event at the  IAAF World U20 Championships in 2018 in Finland. Owing to her fantastic sports performances back-to-back, the Assam-born athlete was appointed as the Deputy Superintendent of Police (DSP) under Assam's state integrated sport policy in 2021.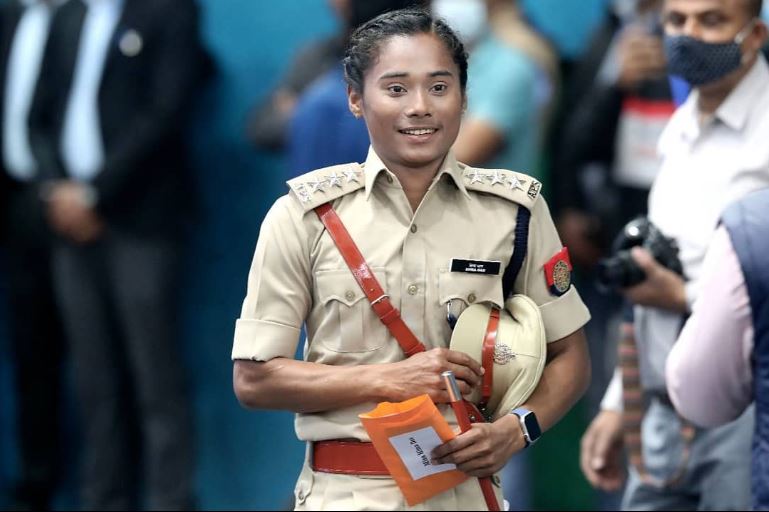 Proud to wear this uniform and fortunate enough to serve my state and my country on two fields.

Hima posted on social media, donning her police uniform with pride. The Bannerghatta Biological Park named a tigress cub 'Hima' to honour the sprinter. 
The youngster also holds the national record for clocking 400 meters in 50.79 seconds at the 2018 Asian Games in Indonesia. She is only the second athlete to have done her state proud by bringing home a gold at an international sporting event, after 1940-born Bhogeswar Baruah, who had won gold at the 1966 Asian Games. 
"I don't show tension and nervousness but I know how fast my heart beats before a race," Hima had admitted in an interview with Olympics.com. 
Journey of the Dhing Express
Born in 2000, Hima is nicknamed Dhing Express, after the town near which she was born in Assam. As a child, she aspired to become a football player and loved playing the sport with the boys of her school in the village. However, the physical education teacher of the school identified her talent as a sprinter and motivated her to take it further. Although Hima's only experience was of running through her village's muddy rice fields, she followed his advice and as they say, the rest is history! 
Born in Kandhulimari village near Dhing, to a farmer couple named Ronjit and Jonali Das, Hima is the youngest of five siblings. She attended Dhing Public High School and later, Jawahar Navodaya Vidyalaya. After passing her senior secondary exam in 2019, Hima went on to pursue bachelor of arts in Cotton University, Assam.
Eventful achievements in the 18th year of life
2018 was an eventful year for the Global Indian. She won the 400 m final at the IAAF World U-20 Championships held at Tampere, Finland, clocking 51.46 seconds.  
Indian track-and-field legend and former Olympian, PT Usha, gave the young athlete a rave review on social media: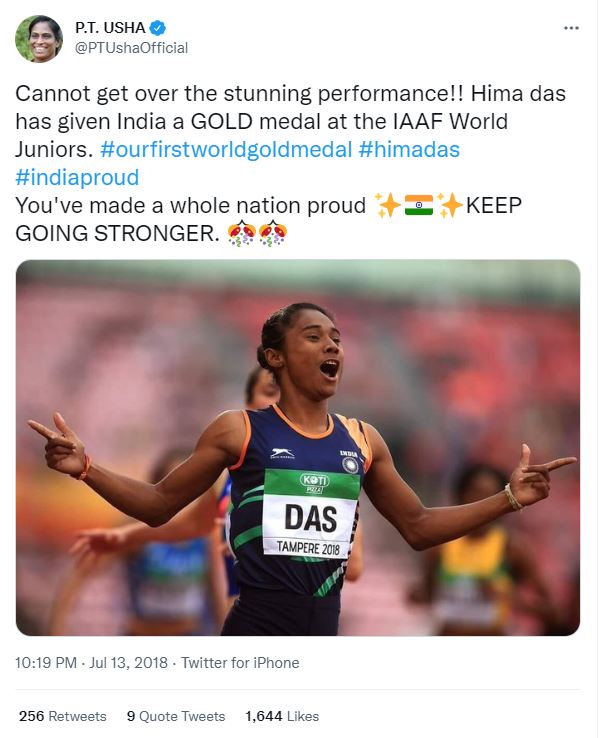 Hima was inundated with congratulations from well-wishers across the country, including the president, Prime Minister, sport ministers and Bollywood personalities.  
At the 2018 Asian Games, she qualified for the 400 m final, after clocking 51.00 in heat 1. She set a new Indian national record, even though it was the silver that came her way. The same year, the sprinter went on to improve the national record to 50.79 seconds in the 400 m final.  
Later, in August 2018, along with M. R. Poovamma, Sarita Gayakwad and V. K. Vismaya, the Dhing Express won women's 4 × 400 metres mix relay clocking 3:28.72 which was held for the first time at the Asian Games. This was the year of Hima's international debut and not many sport lovers were aware of her. They soon learned, when multiple medals, with some historic ones, made her a household name. Hima was given the Arjuna Award by the President of India that year.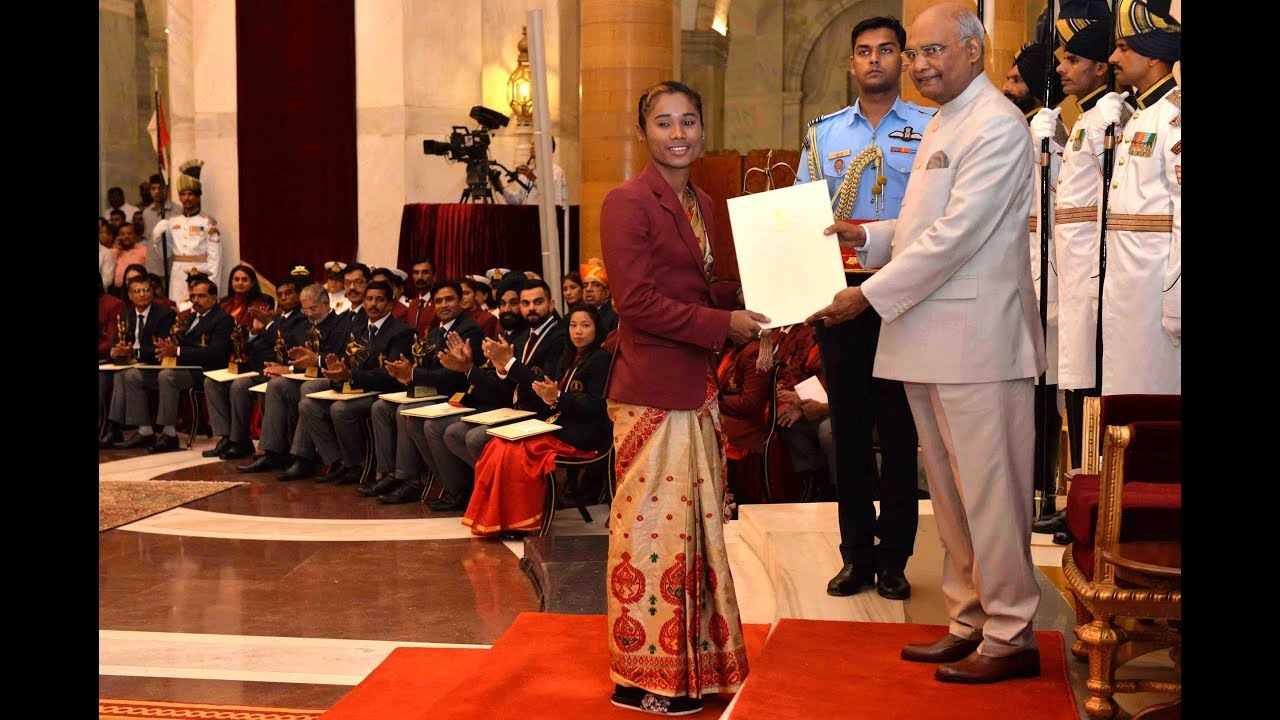 Roaring success with five golds in second year of her debut
Hima continued her superb performances the following year too. In July 2019, she won the 200m gold in Poznan Grand Prix in Poland at 23.65 seconds. She went on to win 200m gold at the Kutno Athletics Meet in Poland with a time of 23.97 seconds just after five days of the first win. Within a week of her second win, she bagged her third gold at the Kladno Athletics meet in Czech Republic, clocking 23.43 seconds. That same month, she added a fourth to her kitty, this time at the Tabor Athletics Meet in Czech Republic with 23.25 seconds. A fifth gold followed at the 400-metre event in Nove Mesto, Czech Republic with 52.09 seconds. In an astonishing 18-day period, between July 2 and July 20 2019, Hima won five golds and became a queen in the hearts of India's athletics fans.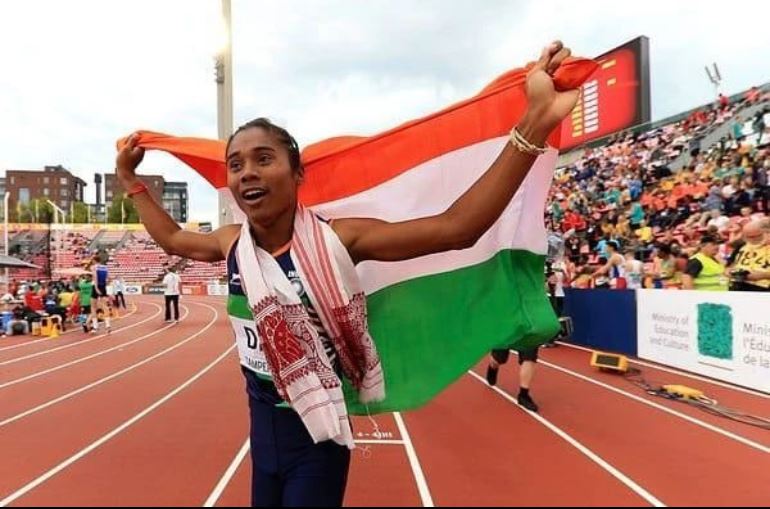 So enormous was her success that the entire world took notice of the sprinting glory. "At this age, she has exhibited great courage and confidence. I didn't see any sign of nervousness during the events," remarked the ace sprinter, PT Usha on social media. 
The athlete was being slotted for the World Championships to be held at Doha in October 2019 but unfortunately her participation had to be ruled out due to a back injury which kept her out of action for months. 
Confidence and hope unaffected by injury
Though she has returned from the injury lay-off, she is returning one step at a time. She has been running 100m and 200m. "I have not cut (off) from running 400 meters. It (recuperating after injury) is a long process," she said in an interview.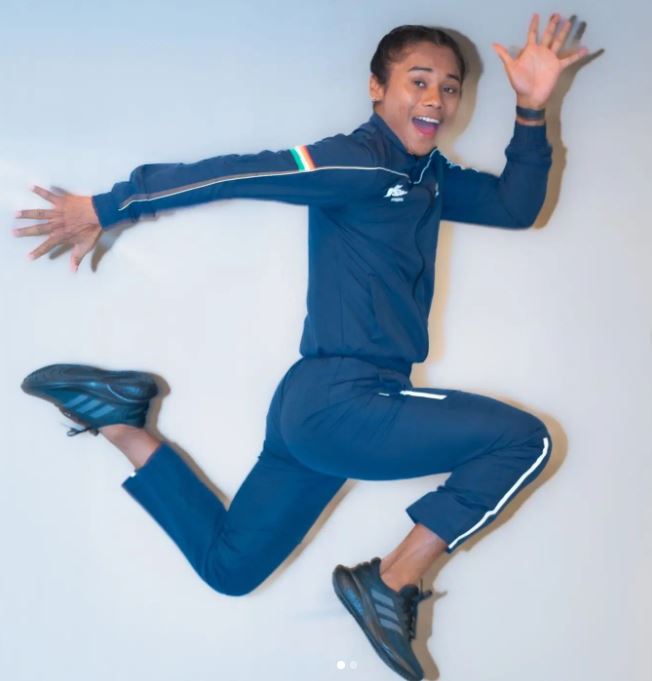 The right side of her back still gives quite a trouble. She has won 100m gold in the National Inter-State Championships with her personal best time of 10.43s." "My L4 and L5 (two lowest vertebrae in the lumbar spine) were broken and was in a different position. Whenever I run it affects me. I did my physiotherapy and ran 30m, 40m, 50m, 100m and then 200m gradually. Till 300m, I am fine," she told her eager fans. 
The challenge…
The last 100 m of a 400-meter race is the most crucial as the sprinters have to pick a lot of speed, then. This is where Hima has been facing problems. Talking about the condition at a training stint in Poland, she said, "when I did that once I had to be taken to the hospital." The committed athlete faced the same problem at National Inter-State Championships in Patiala in 2021 and got forced to pull out of the 100 m and 4 X 100 due to the pain. She even had to skip the Tokyo Olympics.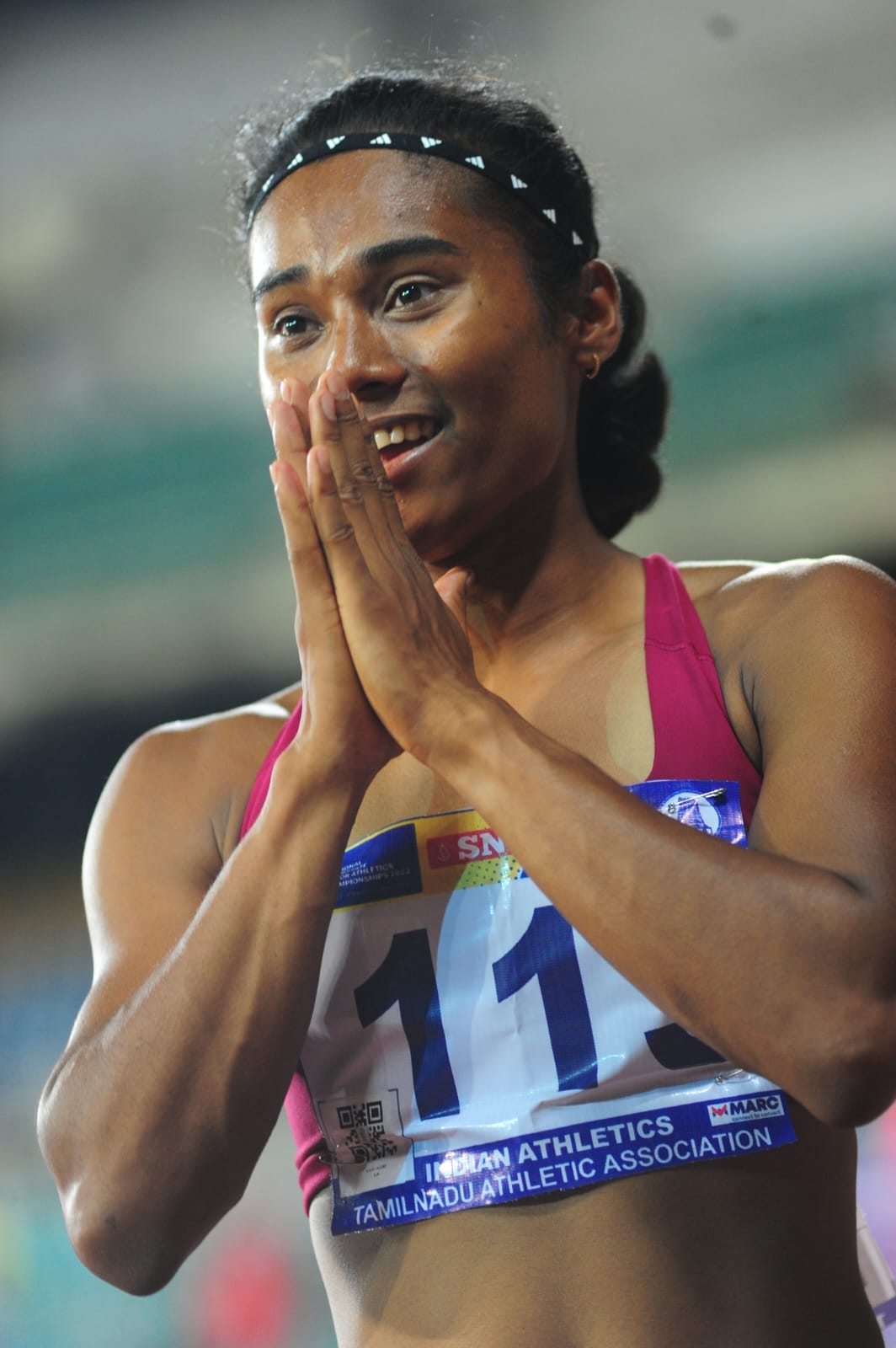 The sprinter was eagerly looking forward to come back with a bang at Birmingham Commonwealth Games 2022 but coming to the previous form required some more recuperation. She failed to qualify for the finals of the women's 200m in August 2022. 
National Games 2022
The 36th National Games of India is being held in Gujarat from September 29 to October 12, 2022. India's prestigious multi-event sporting competition has returned after a gap of seven years in Gujarat. It was last held in 2015 in Kerala. The nation wanted the 'Dhing Express' to come roaring back to action. However, she could not clinch the gold.
She hasn't lost hope and is looking forward to future events. Hima, is among an elite team of sports stars who have put India on the world map for athletics. She enjoys such a reputation that she will always be India's 'star sprinter'.