(January 22, 2023) Proving President Joe Biden's words, "Indian Americans are taking over the country," right, several Indian-origin kids have been winning big at the Regeneron Science Talent Search every year. Also called the US' Junior Nobel, several Indian-origin high school students have secured positions among the top-10 finalists at this oldest and most prestigious STEM competition, which discovers the most innovative of budding scientists.
This year too, over 30 Indian-American students are among the semifinalists in the science competition. Inspired by compelling issues that cripple the pace of day-to-day life, these students have developed simple, unique, low-cost solutions, demonstrating their potential to become scientists and innovators for humankind. As these youngsters fight it to reach the top of the scoring board, Global Indian takes a look at the past Indian-origin students who won big at the Regeneron Science Talent Search.
Neil Chowdhury 
An 18-year-old from Washington, Neil Chowdhury's success in the Regeneron Science Talent Search 2022 is inspiring. He finished fifth among the top 10 winners of the United States' Junior Nobel in STEM and received a cash award of $90,000 for his project, "Modeling the Effect of Histone Methylation on Chromosomal Organization in Colon Cancer Cells", which is an innovative computational method of studying the role of histones implicated in colon cancer.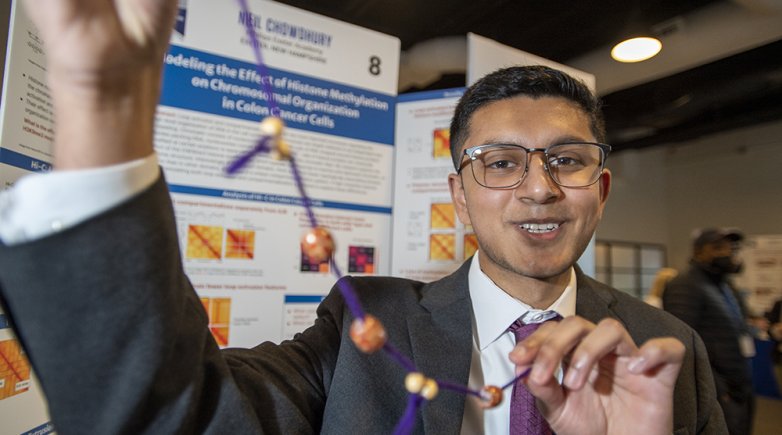 The project he submitted to the Regeneron Science Talent Search shows his findings that histone proteins cause changes to the way a long string of DNA loops and coils itself to fit inside the nucleus of a cell.  Explaining the significance of his project, Neil had earlier said that by being able to simulate biological systems and develop models of 3D genome, it can help us to better understand the inner workings of the cells.
In his experiment, Neil tried to replicate the method of modulating the DNA's physical formation using molecular simulations of DNA polymers and coded the simulation in Python, an open-source programming language. His experiment shows that a modification of histone proteins can help with colon cancer by causing changes in the folding of DNA strings. Neil is exploring DNA, the basic building blocks of life, and will use the money to help pay tuition at the Massachusetts Institute of Technology.
Pravalika Gayatri Putalapattu 
Just 17 and already going places. Indian-American student Pravalika Gayatri Putalapattu won the seventh place at the 2022 Regeneron Science Talent Search. A resident of Virginia, Pravalika received a cash award of $70,000 for her project on real-time monitoring of laparoscopic surgeries. She designed a video-assisted program that uses machine learning to detect errors, if there is any, in surgical steps that doctors take in the operating room, so that a corrective measure can be taken immediately.
"My program was inspired by my cousin in India, who died of a preventable brain surgery complication," Pravalika had shared during the competition, adding, "I wanted to create a tool that alleviates surgeons' stress and helps them perform better in the operating room." Pravalika started working on Dynamic Operating Room Companion (also known as DORC) in July 2020 and her goal was to reduce the potential for mistakes in gallbladder surgeries. Using machine learning, DORC analyses live surgery videos and tracks the movements of surgical tools, such as the acceleration and velocity in use. DORC uses this info to flag potential errors.
Gopal Krishna Goel 
This 17-year-old from Portland, Oregon secured the fourth position at the Regeneron Science Talent Search 2021. A homeschooled math genius, Gopal made it to the top 10 for his research on mathematical properties of random matrices, for which he received a US$ 100,000 award. For his project, he made connections between two mathematical objects related to randomness and probability.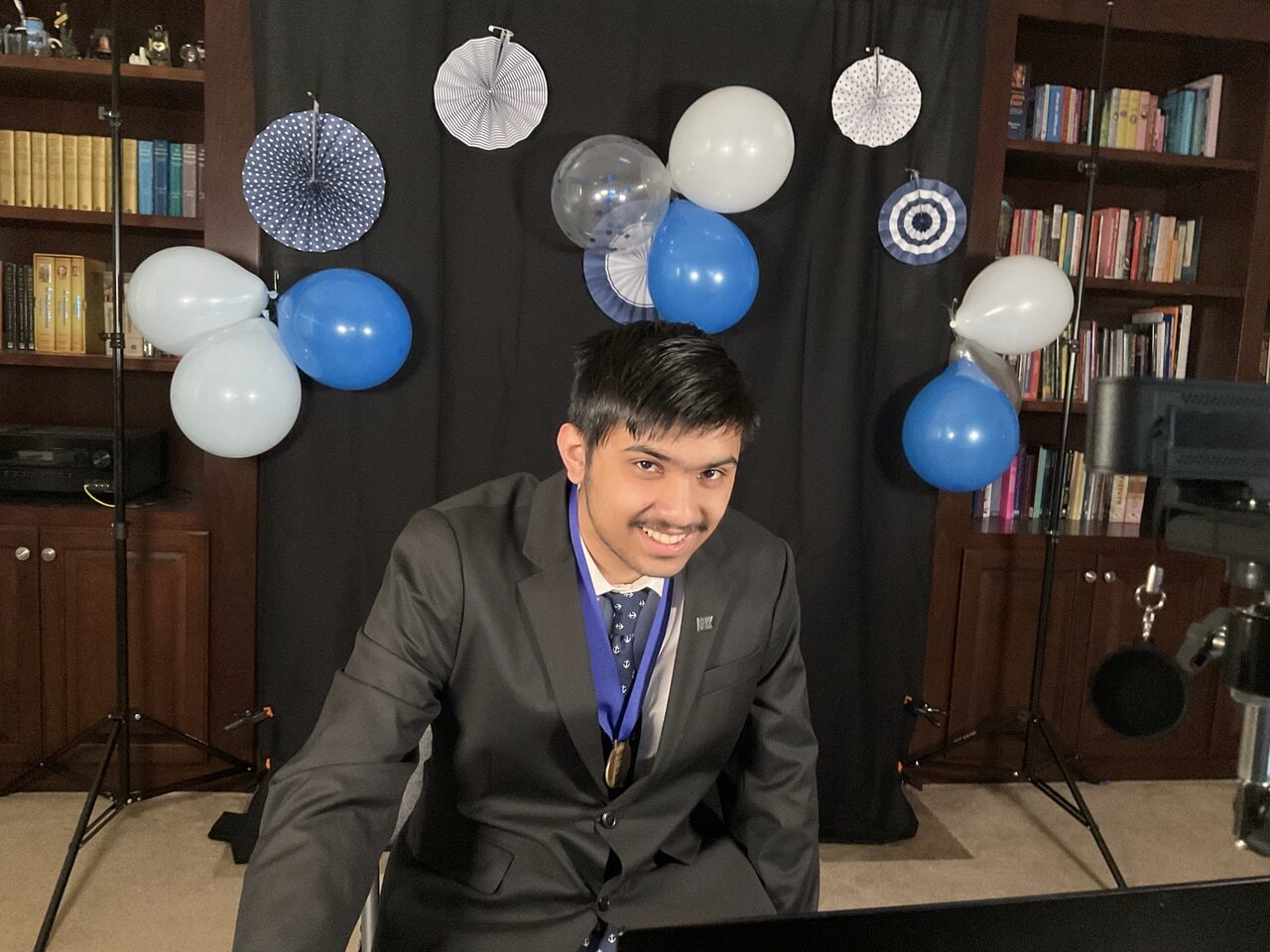 Speaking about his journey, Gopal shared during an interview that homeschooling gave him the opportunity to explore the areas of study he loved at his own pace. He also added that his father piqued his interest in physics and they started going through most of Halliday Resnick 2nd edition together.
The young scientist hopes that his work will aid in the search for the true nature of quantum gravity, more commonly known as "the theory of everything." Gopal, who is currently pursuing his undergraduate in math, science, music, and philosophy at the Massachusetts Institute of Technology, is confident that the award-winning research will play a key role in the field of meteorology, nuclear physics, and quantum field theory. His research on the connection between randomness and probability.
Alay Shah 
Among the top ten winners of the 2021 Regeneron Science Talent Search, 17-year-old Alay Shah from Texas finished seventh and earned a US$ 70,000 award for developing a possible low-cost alternative to MRIs. Through his research titled, Identifying Eye-Movement Patterns in Neurological Disorders to Assess Cognitive and Motor Function, Alay developed a tool to test eye movement as a low-cost, non-invasive method of quantifying deep brain function. He wrote the software, built the hardware, and conducted clinical testing on Dementia, Parkinson's, Multiple Sclerosis, and ADHD patients.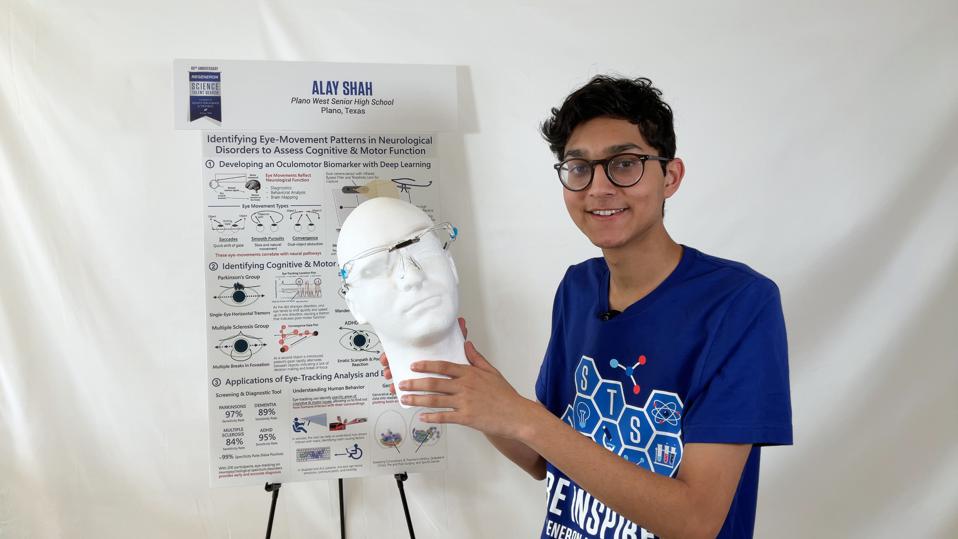 On knowing that injured footballers are immediately taken for an eye checkup to find concussion, Alay started working on the idea of using abnormal eye movements for accurate detection of several neurological disorders. During an interaction session with the media, Alay had shared that he is a big believer in project-based learning. He added that he took a look at the current eye tracking standard and he used a combination of a set of intelligent algorithms to redefine eye tracking at its core.
A resident of Plano, Alay has integrated into the device an infrared camera that uses the software he coded. The device also uses deep learning algorithms to analyze and interpret the data on pupil movement. He has already tested the tool successfully on 200 patients.
Indrani Das 
Currently pursuing a degree in Chemical and Physical Biology at the prestigious Harvard University, Indrani Das took home the top prize of $250,000 for her winning project focused on brain injury at the 2017 Regeneron Science Talent Search. By manipulating astrocytes, a type of supporting brain cell in an injury model, Indrani worked to promote neuron repair.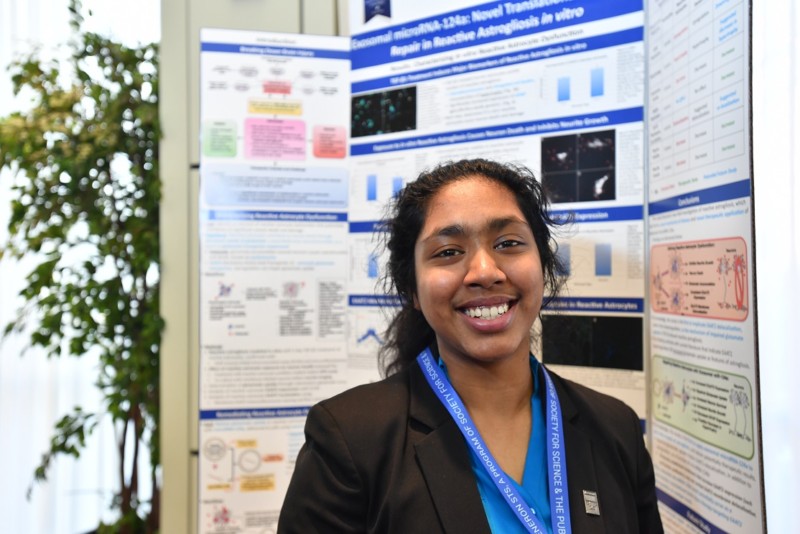 A contributor to neuron death is astrogliosis, a condition that occurs when cells called astrocytes react to injury by growing, dividing, and reducing their uptake of glutamate, which in excess is toxic to neurons. In a laboratory model, Indrani showed that exosomes isolated from astrocytes transfected with microRNA-124a both improved astrocyte uptake of glutamate and increased neuron survival.
Explaining her research, Das said that when Alzheimer's, Parkinson's, stroke, or a traumatic injury affects the brain, the neurons, which are the main signal cells of the brain, are killed. Next, the supporting cells — astrocytes — that are supposed to nurture and protect the neurons, go awry and create a toxic chemical environment, poisoning the neurons.