(February 2, 2023) Alana Meenakshi Kolagatla was barely four when she first got the feel of the king, queen, rook, bishop, and pawn on the chess board. The child hardly had any understanding of the game, yet she was just about able to arrange the pieces in order. By the time she turned six, the chess prodigy began playing professionally. Success followed her everywhere ever since. Having won several locals, national and international championships — of which she admittedly has lost the count — Alana, now 11, has been making all the right moves. Recently, the Vishakhapatnam girl received the Pradhan Mantri Rashtriya Bal Puraskar 2023 for exceptional achievement in sports category, making her one of the eleven children who were selected for the award this year.
PM Narendra Modi praised the chess prodigy and tweeted, "Meet Kumari Kolagatla Alana Meenakshi, a distinguished chess player and now, a Pradhan Mantri Rashtriya Bal Puraskar awardee. Her successes in chess have made her shine in various competitions globally. Her accomplishments will certainly inspire upcoming chess players."
Meet Kumari Kolagatla Alana Meenakshi, a distinguished chess player and now, a Pradhan Mantri Rashtriya Bal Puraskar awardee. Her successes in chess have made her shine in various competitions globally. Her accomplishments will certainly inspire upcoming chess players. pic.twitter.com/Xod9zR3dlA

— Narendra Modi (@narendramodi) January 24, 2023
"I want to become a grandmaster as soon as possible," declares Alana Meenakshi, the World No.1 in the Under-11 girls' category, in an exclusive chat with Global Indian.
Since 2018, Alana has taken the world of chess by storm with her consistent performance. She continued her winning streak by adding gold, silver, and bronze medals to the country's tally and went on to bag the Women Candidate Master (WCM) title when she played in Sri Lanka in 2018. "Sometimes when you're winning, you just feel you're winning and let go of it and end up losing the game or end up in a draw. I have never really kept track of how many games I won and lost," informs the chess prodigy, who has travelled to Albania, China, Sri Lanka, Serbia, and Hungary among other countries for her tournaments, besides vacations. Her father, Madhu Kolagatla is a businessman, and her mother Dr Aparna Kolagatla is a scientist and a career counsellor.
A move in the right direction
The chess prodigy from Visakhapatnam, Andhra Pradesh, who was also the world No 2 in the Under-10 category (December 2022) before she made it to the top, finds chess a very lonely game. "Sometimes you feel very bored, just like you're looking at 64 squares with 32 pieces. And if you don't enjoy what's going on, you don't understand what's going on," says the chess mastermind. But at the end of the day, she says, the combinations and the tactics in the game are what draw her towards it. "People feel that chess is very hard to play and only smart people can play the game. But that's not true. If you play chess, you will become smarter. It's actually the opposite," smiles the class VI student of Timpany school, Visakhapatanam.
Alana plays chess every day. "I need to work a lot to reach a certain level. I practice for about 8 hours a day. So usually it's like four to six hours coaching and then maybe two hours games and then two hours I work by myself," informs Alana, who occasionally takes a break from the game when she is overstressed. When it comes to tournaments, her games last up to six hours.
So what does it take to become a professional chess player like her? "Hard work, talent, and seriousness. One should be willing to work a lot, even though sometimes it gets very stressful. Strategy and confidence will keep you going in the game," feels this huge Potterhead, who has read all Harry Potter books.
She is now trying yoga and meditation to beat the stress. "My parents recommended it and though I am trying my best for the past few weeks, it feels boring sometimes," she laughs. Before every tournament, she makes sure to check who she is playing against, prepare against them and make note of their weaknesses and strengths.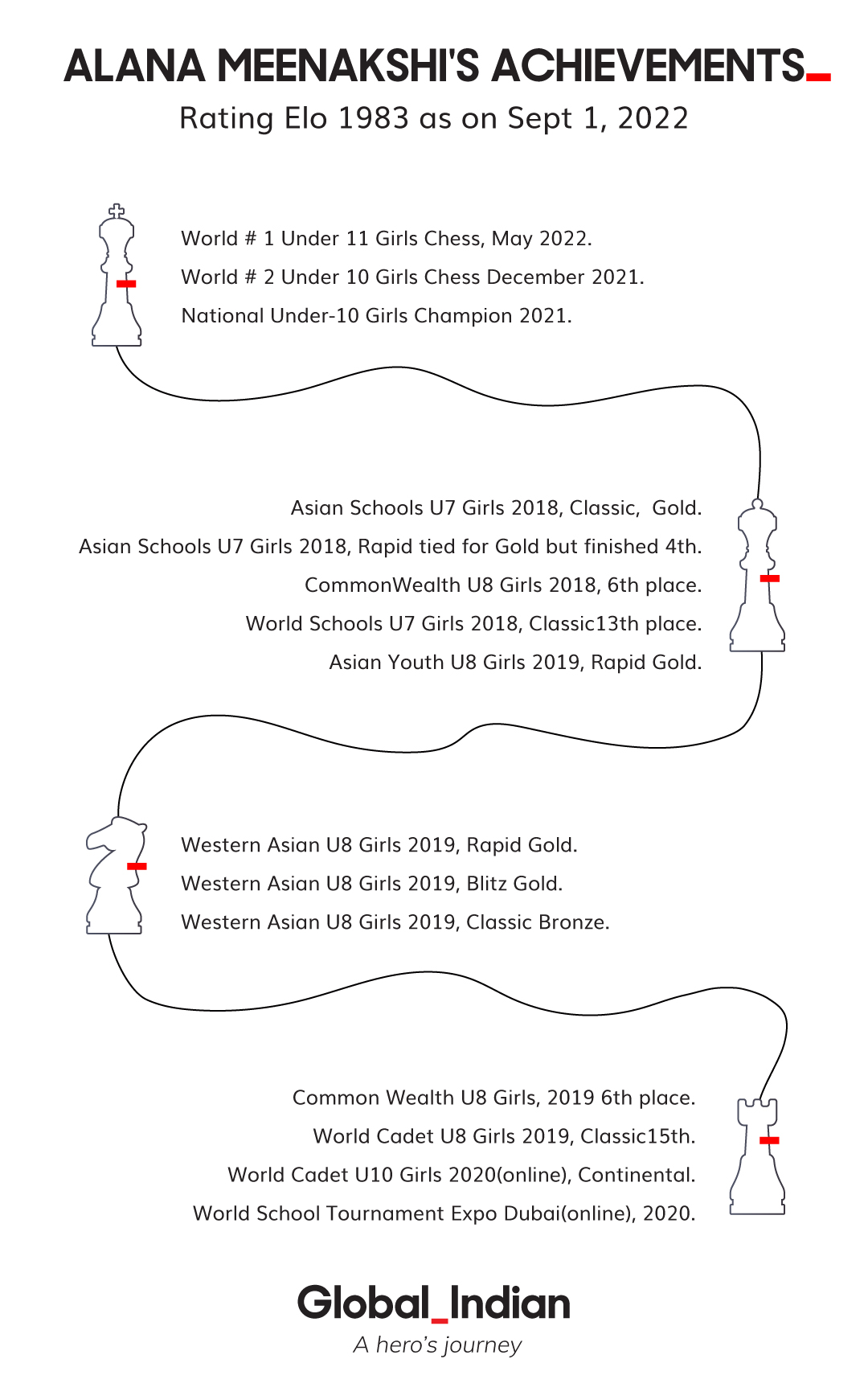 Alana's achievements have made her parents and friends proud of her. "It feels great when family members and friends tell others that I am an international chess player and stuff like that. Parents, sometimes say I could have done better after a particular tournament," says the prodigy, who lists her win in her first international chess in Sri Lanka as one of the major highlights of her journey so far.
Beyond the chequered world
Besides chess, Alana likes to play tennis. "I actually play tennis just for physical fitness, go swimming, and indulge in basketball once in a while," says Alana, who likes to watch all the action stuff on Netflix.
Ask her if she comes across children who love Chess, the Vizag girl feels that people should start playing chess because it develops intellectual skills, calculations, and quick reflexes. "People don't play chess because they think it's very hard and boring, but I don't think so. There are a few people who are interested in chess, who are around my age, plus or minus a few years, but many are not," says Alana, whose elder brother Dhruv is a tennis player.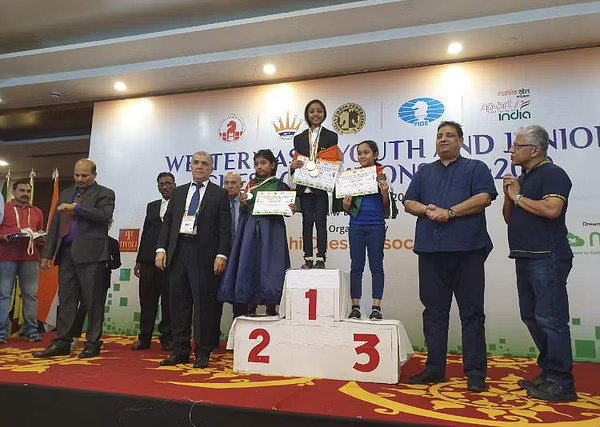 What else does Alana like to do? "Fashion designing interests me but I am not very sure. I am still in VI grade so I have another three to four more years to decide," informs the champ, who like most kids her age, loves Dario for Wimpy Kid as well. She is a huge fan of Katy Perry, Dua Lipa, and Justin Bieber as well. Alana makes it a point to visit as many places as places while on a foreign trip. Recently, she was in Budapest where she visited the castle, Parliament, and many more places to understand its history and rich culture.
"Kids should do more something creative than just watching TV or spending time on mobile phones. They should go out and play or, try some arts and crafts. Maybe, they should try learning a new thing like chess," is her message to children her age.