If you have watched the popular Netflix series Never Have I Ever, you would definitely know Poorna Jagannathan. How could you miss the strict single Indian mom (Nalini) who is raising her teenage daughter (Devi) in America with an iron fist? With one foot in Indian culture and another in the liberal Western world, Nalini is far from any uni-dimensional South Asian character on the small screen. With her hilarious one-liners and nuanced acting, Jagannathan has won applause with her stunning performance as Nalini in the series.
Producer Mindy Kaling's coming-of-age comedy-drama is unlike any, and it's the representation of the South Asians that makes it a cut above the rest. Jagannathan, who is known to push the envelope with each of her roles, makes South Asians look more real on screen. She was named among the top 100 Most Impactful Asians by Gold House this year.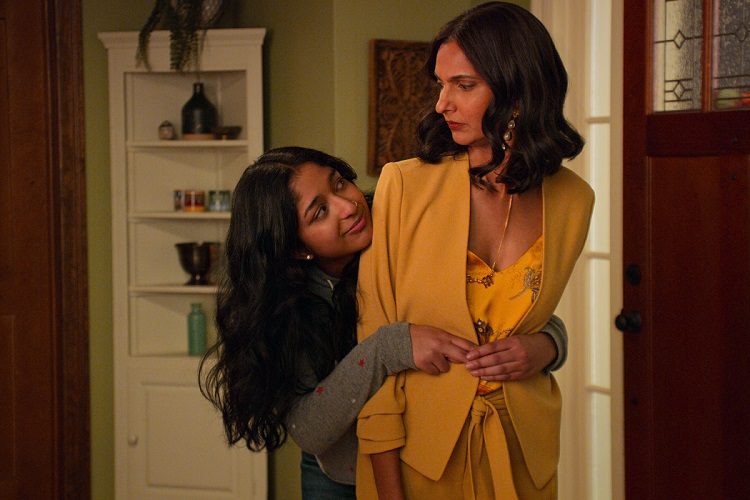 The 48-year-old has found her breakthrough role with Never Have I Ever, but it was a long journey to reach here.
Advertising to acting
Born in Tunisia to Tamilian parents, Jagannathan grew up in India, Pakistan, Ireland, Brazil, and Argentina because of her dad's moving job in the Indian Foreign Services. The global exposure also made her fluent in Tamil, English, Portuguese, Hindi, and Spanish.
After completing her journalism degree, she enrolled in a master's degree in Fine Arts at Pace University. However, she dropped out a year later. But her love for acting made her continue to take classes from her mentor Elizabeth Kemp, who she met during her college days.
But it was advertising that Jagannathan pursued as a profession. Interestingly, it wasn't until 30 that she started to explore acting as a vocation. It was in 2004 that she dipped her toes in films and the small screen together. For the next few years, she played blink-and-miss roles. By 2010, she had almost decided to kiss goodbye to acting for the lack of intriguing and three-dimensional roles.
I already finished Never Have I Ever S2 lol, lots to enjoy, lots to roll your eyes at, lots to make me cry (aka solid ratio for a teen romcom), but mainly can we please just take a moment for Nalini auntie's outfits this season!? banging wardrobe pic.twitter.com/CRcwLkJTRp

— Tara Joshi (@tara_dwmd) July 19, 2021
But it was the 2011 Hindi action-comedy drama Delhi Belly that changed the trajectory of Jagannathan's career. Her bohemian sex appeal and strong screen presence made her stand tall against the run-of-the-mill Bollywood heroine roles. The film was a huge success in India and abroad, thus giving Jagannathan the right exposure.
The incident that paved way for Nirbhaya
But something happened in 2012 that made Jagannathan put her story on an international platform.
The brutal gangrape and murder of a Delhi girl Jyoti Singh in 2012 shook Jagannathan. The incident put her fears and trauma in perspective and gave her the power to openly speak about sexual violence. The 48-year-old, who was sexually assaulted at the age of 9, collaborated with acclaimed playwright Yael Farber to produce Nirbhaya, a play that dealt with the silences around sexual violence.
"There was a neighbor and family friend who got his hands on me. He obviously told me not to tell anyone…I have encountered so many situations as a child and as a young adult. They were violent but I wouldn't speak about it. There was a code that you wouldn't talk about it," she revealed in a video.
Termed as one of the most powerful pieces of theatre by The Telegraph, Nirbhaya opened to a packed Assembly Hall during the Edinburgh Fringe Festival. The play won the 2013 Amnesty International Award and made its debut in India a year later with sold-houses in Mumbai, Delhi, and Bengaluru.
"It was such a profound lesson in seeing art and activism collide. We were seeing how a system could be dismantled just by the power of truth and how shame could be shifted from the survivor to the perpetrator where it rightly belongs. I think great art follows Newton's third principle; it has a sort of luminosity to it that is in opposition to the darkness it may have been born out of," she told Los Angeles Times.
The beginning of inclusivity and representation on the small screen
It was during this time that American television production was beginning to diversify, and the entire world was Jagannathan's stage.
From House of Cards to Big Little Lies to Growing Up Smith, the actress was making her presence felt across mediums. With each of her roles, she was putting South Asians on the global map. But the axis shifted for her with her heartbreaking performance as a bereaved immigrant mother whose son is wrongly accused in the 2016 drama The Night Of.
Jagannathan in an interview with Delaware Public Media revealed that she did feel the sudden shift in the perspective after The Night Of.
"Personally, I noticed a big shift after The Night Of. And the truth is: A lot of people have been fighting really hard, in front and behind the cameras, to have diversity represented."
She took it a notch higher with her performance in the 2019 TV series Ramy where she essayed the role of a Muslim woman. "Brown women are so seldom portrayed with any sense of sexuality. I can really say that for South Asian women, especially Muslim women. So what does that look like on the screen? That's what interests me; that's what fascinates me. And I think Ramy explored that so beautifully," she added.
Shattering stereotypes with Never Have I Ever
But it was with Kaling's Netflix series Never Have I Ever that Jagannathan shattered the glass ceiling of sorts by beautifully bringing South Asians to the forefront in all their entirety. She plays a widowed mother (Nalini) who is bringing up her teenage daughter in the suburbs of America.
"You see Nalini's desires, her vulnerability, her grief alongside her relentlessly strict parenting. You see her as a three-dimensional person – something that American TV rarely affords minorities," she told LA Times.
Jagannathan has been consciously working towards inclusivity and representation of South Asians across all mediums.
"As minorities, our screen time is increasing. We are featured more and fill more and more roles. [It's] a huge win. But our seen time remains low. … Character arcs for minorities still feel underdeveloped and stereotypical. As a result, the audience doesn't fully see us. They don't get the three-dimensional version of us, and it's that version that moves the needle. That's the version that can create empathy, understanding, and change," she added.
Editor's Take
South Asians, especially Indians have mostly been sidelined to stereotypical roles in Hollywood films and American shows. But actress and producer Poorna Jagannathan is smashing the stereotypes one at a time with each of her roles. Making inclusivity and representation an essential part of every story, she is introducing South Asians to the world in a three-dimensional manner. Something that many actors have failed to pull off.