(November 25, 2022) J. Jeya Ratchagen would watch his daughter, who was diagnosed with a hearing disability, sitting alone all day. With no friends or schoolmates to play with, the eight-year-girl would often sit idle and stare out the window of her small house. To cheer his daughter up, Jeya decided to involve her in sports and took her to a local stadium, where the kid instantly fell in love with the racket. A decade later, the same girl – badminton player J. Jerlin Anika – created history after winning three gold medals at the 24th Summer Deaflympics, held in Brazil earlier this year.
"Initially, it was not for playing. I just wanted her to socialise. She was sitting idle and feeling lonely at home," a proud Jeya said in an interview, adding, "When my eight-year-old daughter started showing a liking towards badminton, I thought the sport will distract her from her hearing impairment. I never thought that she would reach this level."
View this post on Instagram
Passionate and focussed, Jerlin had earlier won the gold for India at the 2019 World Deaf Badminton Championship in China. On November 30, the 18-year-old badminton player will become India's first-ever deaf athlete to receive the Arjuna Award, the second-highest sporting honour in the country.
A troubled start
Jerlin was only two years old when her parents noticed that, unlike other kids, their daughter didn't respond to voices at all. After several tests at a local hospital, the doctor informed them that their daughter had a hearing impairment. Jerlin's father has recalled in several interviews that it was "the saddest day for the family."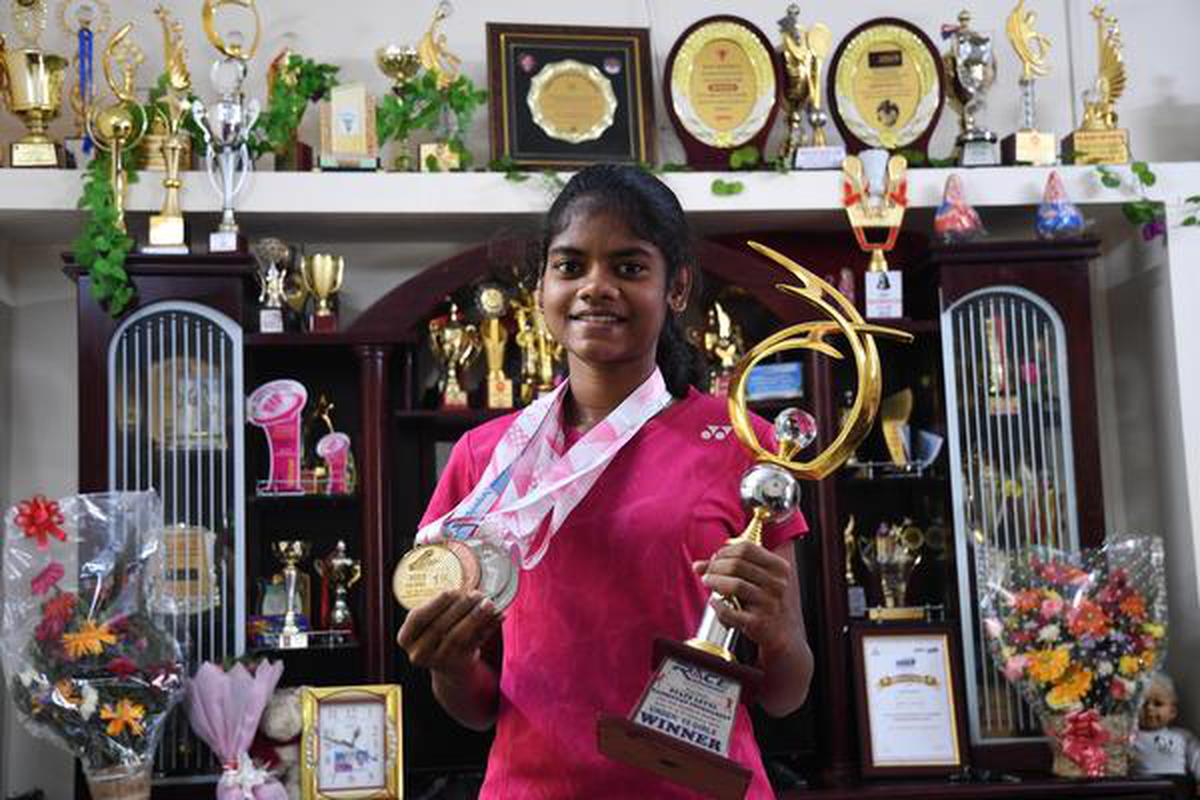 When the shuttler's father decided to enroll her in the local badminton academy, he was ridiculed by his relatives, who thought that she wouldn't last one day in the court. "I had a lot of faith that my daughter would make us proud. More than the success that she has achieved on the court, I am glad to see the smile on her face. She has put in a lot of hard work to achieve this. She is now an independent girl. My wife and I always wanted our daughter to be a strong person," he said.
View this post on Instagram
Slowly, Jerlin started learning about the nuances of badminton from coach P. Saravanan at Bose academy. While she played well, she faced many difficulties understanding the rules of the game. Realising that he cannot teach her the same way he taught his other students, coach Saravanan came up with a witty solution to communicate with this young badminton player. "He used to train with the normal kids but after seeing her, he started learning ways to communicate with her," explained Jeya, adding, "Not being able to understand the rules, she was hardly performing on the court. So, Saravanan came up with the idea of teaching her with visuals. A blackboard was brought in for training sessions. She started improving significantly."
When the going gets tough…
Her hard work and the dedication of her coach won her a silver medal at the Federation of India School Games 2016, and she subsequently earned a place in the Indian contingent going for the 2017 Summer Deaflympics. Shattering all limitations, the young badminton player secured the fifth place as the youngest player in her maiden appearance on an international platform. In 2018, the Global India won two silver and a bronze at Asia Pacific Badminton Championship 2018 in Malaysia.
However, a small businessman from Madurai, Jeya found it difficult to support his daughter's sports accessories and proper nutrition. As the family was trying to find new ways to get past this hurdle, Jerlin's excellence in badminton fetched her a scholarship worth Rs 3.25 lakh by HCL Foundation's 'Sports for Change' initiative. The scholarship also helped her continue her practice during the COVID lockdown, and the star emerged as the most decorated Indian player at the Deaflympics.
One of the highest-ranked Indian players in World Deaf Badminton, Jerlin is working hard for her upcoming tournaments. According to her father, "She has reached the highest stage in the deaf category, so now she is looking to do well in the general Olympics. It won't be easy as the level of the game is very high there and she has to improve a lot overall. So, we are planning to get her coaching in countries such as Indonesia and Malaysia, where she will have technical sessions from leading coaches internationally."